Kingfisher, Sacred
Todiramphus sanctus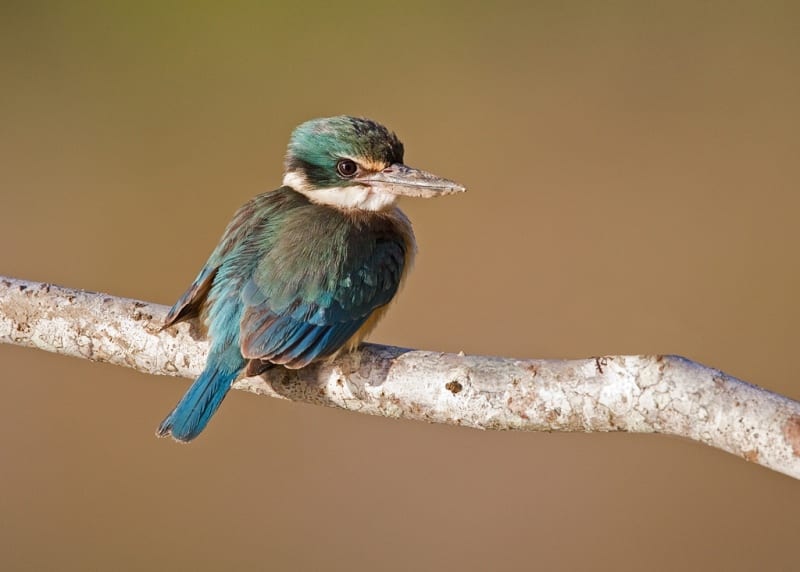 A medium sized kingfisher measuring 19-24cm in length. It has a turquoise back, turquoise blue rump and tail, buff-white underparts and a broad cream collar. There is a broad black eye stripe extending from bill to nape of neck.
The bird inhabits woodlands, mangroves and paperbark forests, tall open eucalypt forest and melaleuca forest; where it feeds on crustaceans, reptiles, insects and their larvae and, infrequently, fish. The birds perch on low exposed branch on the lookout for prey. Once prey is located, the Sacred Kingfisher swoops down and grasps it in its bill, returning to the perch to eat it.
Unlike their larger, kookaburra cousins, Sacred Kingfishers are not as readily approached, although they are fairly common across their distribution range. During winter, they migrate to the north of their distribution (nothern Australia), before returning to the South in Spring. They are resident pretty much the entire year in the Central Queensland Coast Landcare Network.
| | |
| --- | --- |
| Classifications: | Bird, forest and grassland |
| Family: | Halcyonidae |
| Information sources: | Birds in Backyards - http://birdsinbackyards.net/species/Todiramphus-sanctus |