Jumping Bristle-tail
Allomachilis apterygota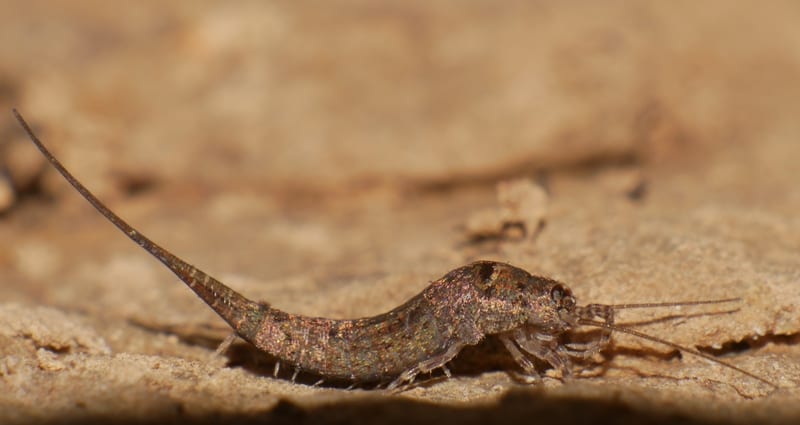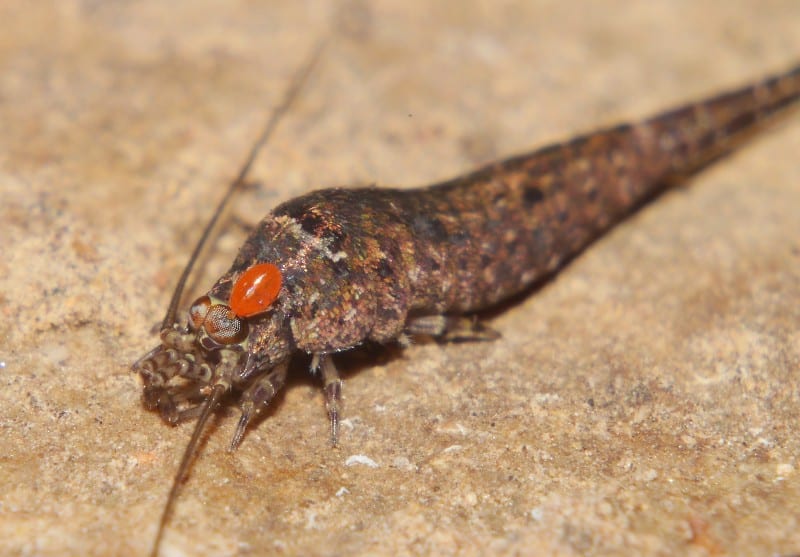 By Steve Pearson :
Jumping Bristle-tails are wingless hexapods(insects). They belong to the insect order Archaeognatha .
The Jumping Bristle-tail species Allomachilis apterygota occurs in the Airlie Beach rainforest.
They can be there one second – and gone the next. That's why they are called "jumping" bristletails
because they can launch themselves half a metre through the air. If you spook them they thrust their
abdominal muscles down rapidly and forcefully against the ground. With their bristles acting as
gripping spikes they have instant lift-off.
Jumping Bristle-tails eat dead leaves, algae, fungi, lichens and decaying vegetation. They are active mostly at night. In the daytime, they shelter under leaf litter, bark, stones and amongst rock crevices. Interestingly, I have found them with exoparasites in a similar way in which some other animals get ticks. Jumping bristle tails get Acari tick mites on them that suck their blood-like body fluids. The Acari anchor on and suck the fluid even through the Bristle-tail's eye.  Could you imagine what it would be like to get a tick in the eye?
There are both male and female Bristle-tails but the two don't get together for mating. Instead, the male leaves his deposit of sperm under a rock and the female finds it herself. She fertilizes herself and finds a safe place to lay her eggs. The eggs hatch and nymphs emerge and as they grow they undergo simple metamorphosis, progressing from egg to nymph to adult. As they get larger they moult; i.e. they shed their skin/shell . But what is very interesting is that there are only 2 insect groups that keep growing once they reach adulthood and the Archaeognatha is one. They keep on growing until they die.
| | |
| --- | --- |
| Classifications: | Insect |
| Family: | Machilidae |
| Information sources: | Photos taken at Airlie Beach by Steve Pearson |