Zig zag vine
Melodorum leichhardtii, Fam. Annonaceae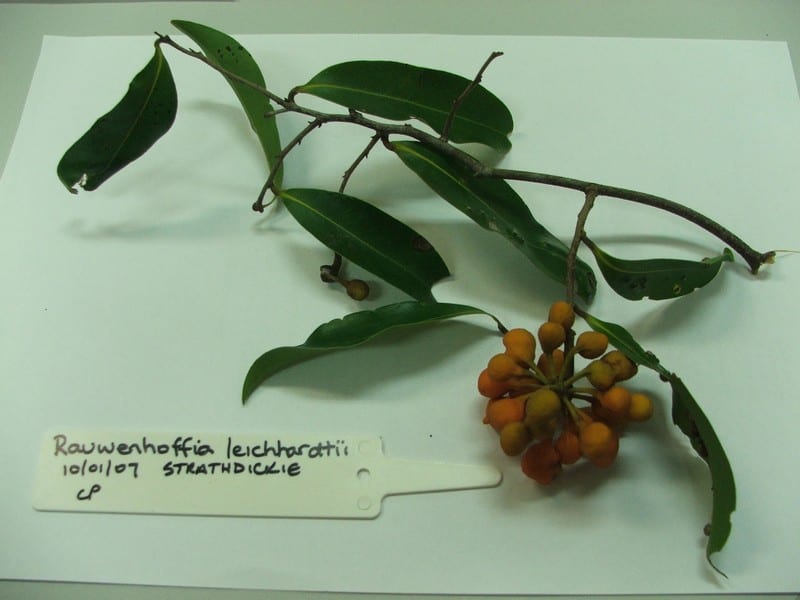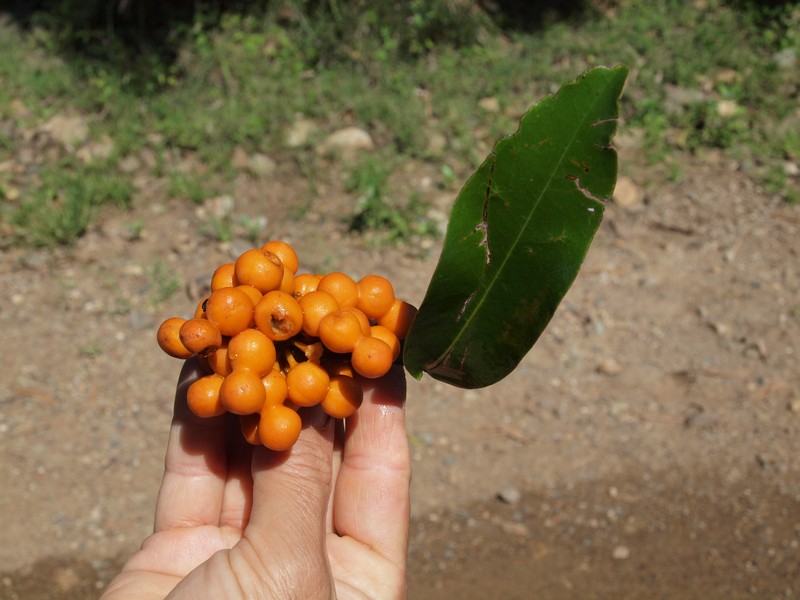 A vigorous woody climber to scandent shrub which needs plenty of room to grow, or regular pruning to maintain a bushy form. Branchlets are somewhat zig-zagged and stems may form loops and knots. Previously Rauwenhoffia leichhardtii.
Weed Category:
Weed:
No
Form or habit:
Vine (Climbing, Twining or groundcover), Shrub
Family:
Annonaceae
Leaf:
Simple Alternate
Simple, alternate, entire, oblong, 5-14 x 2-5cm. Leathery, dark green and shiny. Petioles (leafstalks) grooved on the upper surface. Lateral veins form loops inside the leaf margin. Young, recently expanded leaf bearing twigs, are covered in minute rusty brown hairs.
Flower conspicuous:
Inconspicuous
Flower colour:

Yellow, Brown

Flower description:
Solitary or in pairs, dull yellow or brownish yellow with six thick petals in two series, 2.5cm diameter, borne on 3cm stalks, fruity fragrance, open in the evening.
Fruit conspicuous:
Conspicuous
Fruit colour:

Orange, Yellow

Fruit:
Fleshy
Fruit description:
Occur in clusters, fleshy, yellow or orange, each looks like a ball on a thick stalk or a short string of thick beads on a stalk, with a deep constriction between the segments or beads. Each contains one seed.
Habitat:
Beach scrub, littoral rainforest, gallery (riverine or riparian) forest, vine thicket
Distribution
It occurs in in rainforests and vine thickets, including littoral rainforest or beach scrub. It is quite common locally. Eastern Qld and the Northern Territory.
Food source for:
Fruit are eaten by a range of birds including pigeons, doves, Lewin's honeyeaters, and metallic starlings. It is a larval food plant of the four-barred swordtail, pale triangle and green-spotted triangle butterflies and the orange fruit borer moth which bores into ripening fruit.
Toxicity:
No toxicity known
Origin:
Australia
Notes:
Fruit are edible and reasonably palatable. Brownish red dye can be obtained from the bark.
Information sources:
CSIRO (2010) Australian Tropical Rainforest Plants version 6.1., Melzer R. & Plumb J. (2007) Plants of Capricornia., Townsend K. & the Society for Growing Australian Plant Townsville Branch Inc. (1994) Across the Top: Gardening with Australian Plants in the tropics., Whitsunday Catchment Landcare (2011) February newsletter.