Yellow oleander, Captain Cook tree
Cascabela thevetia, Fam. Apocynaceae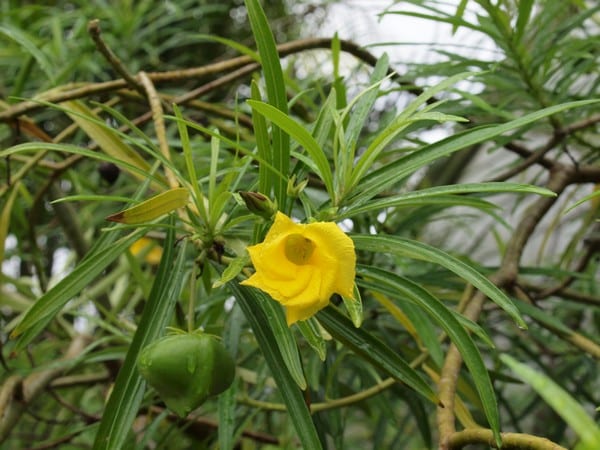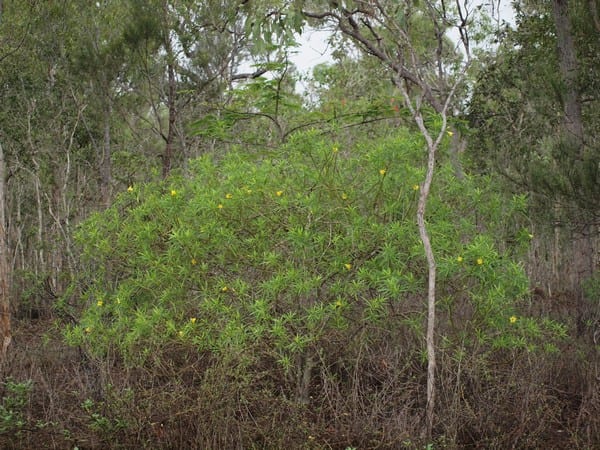 Usually much-branched shrub to 4m but, sometimes a tree to 10m, milky sap. Previously Thevetia preruviana.
Weed Category:
Restricted invasive plants Category 3


Plants declared invasive under the Biosecurity Act 2014, that are present in QLD. Not to be distributed or disposed of.

Weed:
Yes
Form or habit:
Shrub, Small tree
Family:
Apocynaceae
Leaf:
Simple Alternate
Alternate, linear, simple densely spiralled, dark glossy green above, narrow, pointed at tip, 93-150 x 4-15mm.
Flower conspicuous:
Conspicuous
Flower colour:

Yellow

Flower description:
Yellow or peach, bell-shaped with 5 overlapping lobes, waxy, up to 50mm in diameter, scented, borne in several flowered clusters.
Fruit conspicuous:
Conspicuous
Fruit colour:

Black, Green

Fruit:
Fleshy
Fruit description:
Lantern shaped, laterally compressed, fleshy drupes, 25-40mm in diameter, green ripening to black, with 4 seeds enclosed within 2 bony structures.
Habitat:
Distribution
Food source for:
Toxicity:
Toxic if ingested, potential allergen, irritant sap, toxic or irritant to domestic pets, toxic to native animals.
Origin:
Tropical America
Notes:
Spread by: water, feral pigs, garden waste, gravity. Invades: bushland, creek banks and pastures. Notes: introduced as garden ornamental, all parts deadly poisonous, particularly the seeds.
Information sources:
Mackay Regional Pest Management Group (2018) Weeds of the Mackay Whitsunday Region Second Edition.