YELLOW OLEANDER, CAPTAIN COOK TREE (WEED)
Cascabela thevetia prev. Thevetia preruviana, Fam. Apocynaceae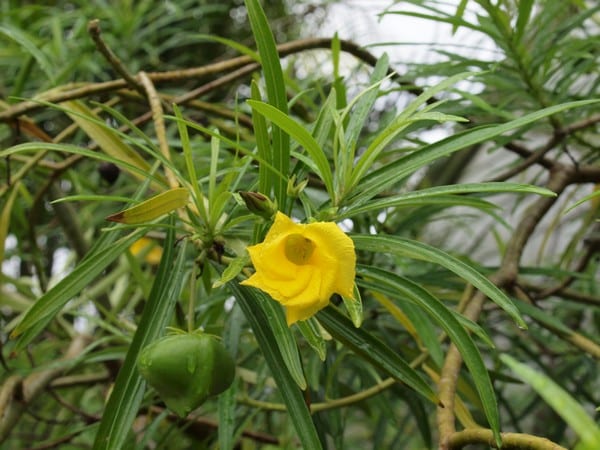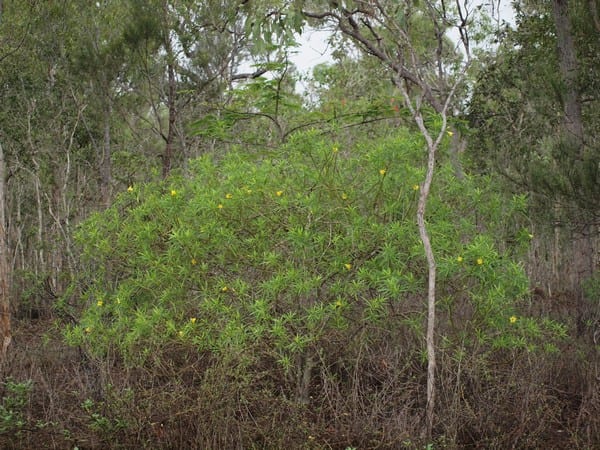 Usually much-branched shrub to 4m but, sometimes a tree to 10m, milky sap.
Form or habit:
Shrub or small tree
Latex:
Apocynaceae
Leaf:
Simple Alternate
Alternate, linear, simple densely spiralled, dark glossy green above, narrow, pointed at tip, 93-150 x 4-15mm.
Flower conspicuous:
Conspicuous
Flower colour:
Yellow
Flower description:
Bell-shaped with 5 overlapping lobes, waxy, yellow or peach coloured up to 50mm in diameter, scented, borne in several flowered clusters.
Fruit conspicuous:
Conspicuous
Fruit colour:
Green ripening to black
Fruit:
Fleshy
Fruit description:
Lantern shaped, laterally compressed drupes, 25-40mm in diameter, green ripening black, with 4 seeds enclosed within 2 bony structures.
Habitat:
Distribution
Food source for:
Toxicity:
Toxic if ingested,Potential allergen,Irritant sap,Toxic or irritant to domestic pets,Toxic to native animals
Origin:
Tropical America
Weed:
Yes
Weed status:
Declared class 3
Notes:
Spread by: Water, feral pigs, garden waste, gravity. Invades: Bushland, creek banks and pastures. Notes: Introduced as garden ornamental, all parts deadly poisonous, particularly the seeds.
Information sources:
Mackay Regional Pest Management Group (2011) Weeds of the Mackay Whitsunday Region.