White passion flower
Passiflora subpeltata, Fam. Passifloraceae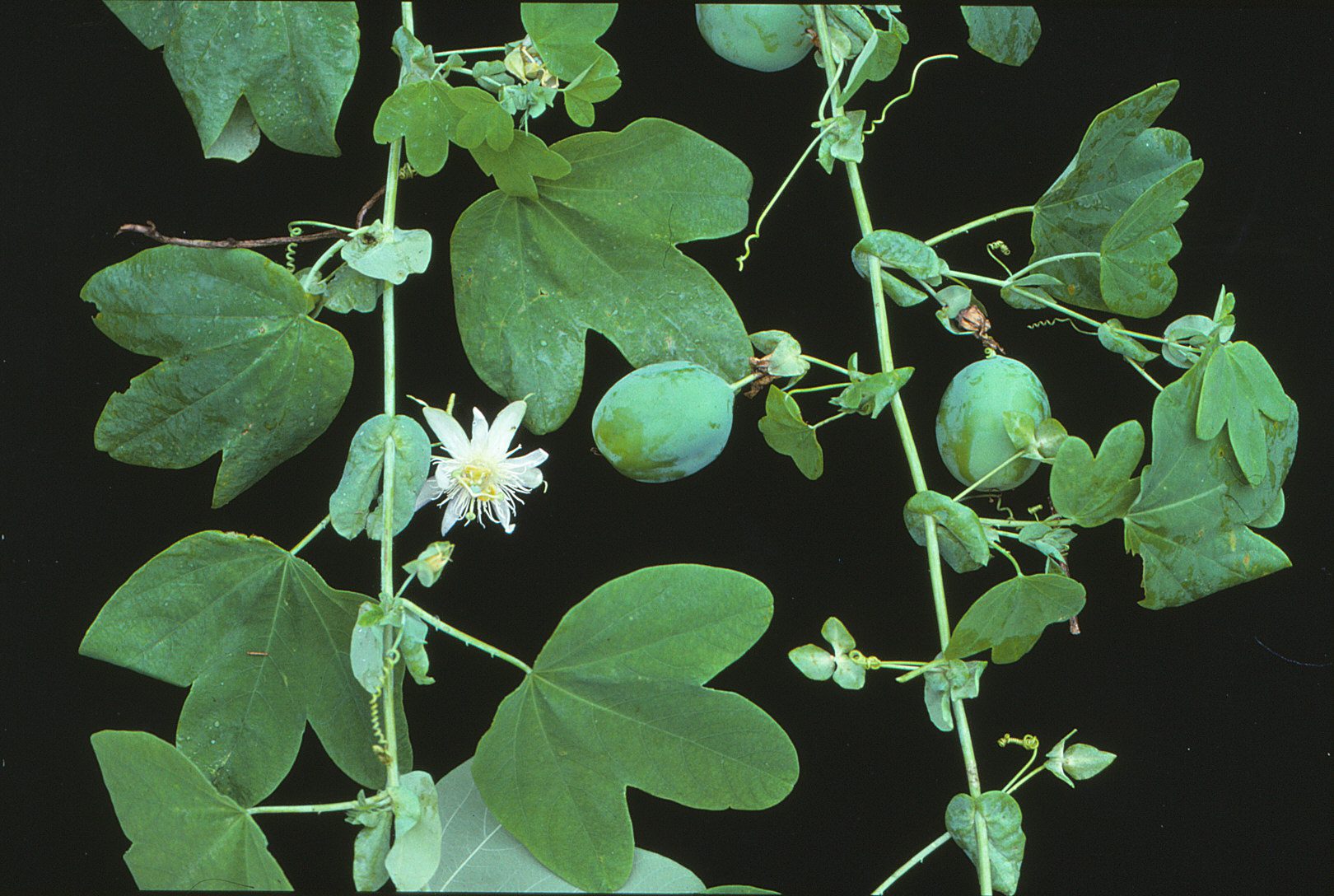 Perennial vines climbing with axillary tendrils. Stems to 5m long, more-or-less glabrous.
Weed Category:
Other invasive plants


Invasive plants that are not prohibited or restricted invasive plants, but are known to spread readily and cause negative impacts, within the region.

Weed:
Yes
Form or habit:
Vine (Climbing, Twining or groundcover)
Family:
Passifloraceae
Leaf:
Simple Alternate
Alternate, simple. 3 lobed, rounded to heart shaped at base, 75-90 x 90-105mm, pale bluish-green, glabrous, leaf stalk 20-50mm long with 2-5 stalked glands.
Flower conspicuous:
Conspicuous
Flower colour:

White

Flower description:
Typical passion flowers, 5-petalled borne singly in leaf axils. White, 40-60mm in diameter
Fruit conspicuous:
Conspicuous
Fruit colour:

Green, Yellow

Fruit:
Fleshy
Fruit description:
Ovoid fleshy berries with numerous seeds surrounded by pulpy aril. Oblong, 20-60 x 30-50mm leathery, yellowish-green at maturity, seeds brown or black, about 4mm long imbedded in unpleasant smelling white or yellow pulp.
Habitat:
Distribution
Food source for:
Toxicity:
Toxic if ingested
Origin:
West Indies and South America
Notes:
Spread by: birds, animals, water, garden waste, contaminated soil. Invades/threats: forest edges, creek lines, disturbed rainforest, open vegetation, coastal areas and crops. They often grow over vegetation forming a thick smothering cover that can lead to plant or crop death. Notes: not as widespread or as common as P. foetida and P. suberosa in this region. Suspected to be poisonous to humans and livestock if eaten in sufficient quantities. Red passion flower (P. aurantia), a local native species, also has similar 3-lobed leaves. However, it has showy creamy-salmon flowers aging to red, and the fruits are green or sometimes pinkish with grey pulp. Environmental weed.
Information sources:
Mackay Regional Pest Management Group (2018) Weeds of the Mackay Whitsunday Region Second Edition.