White ash, pink ash
Alphitonia petriei, Fam. Rhamnaceae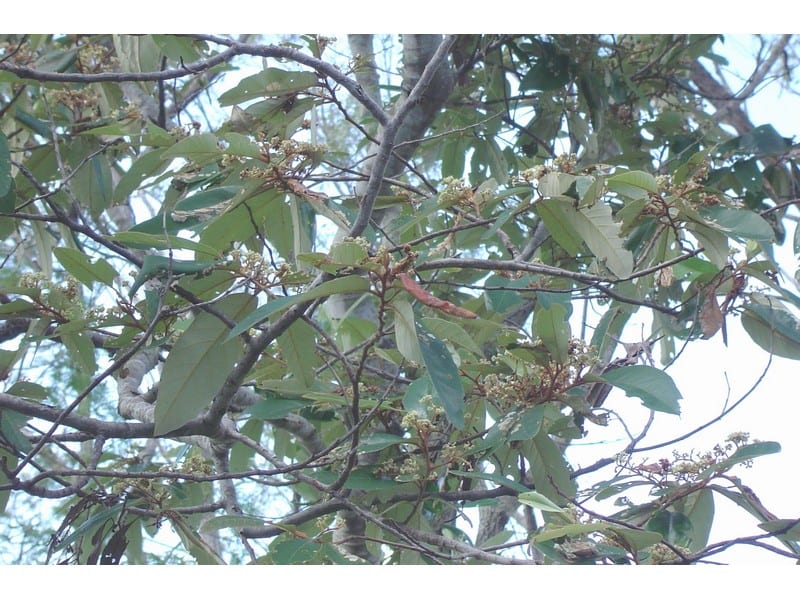 Dense small to medium tree with spreading canopy with horizontal branches.
Weed Category:
Weed:
No
Form or habit:
Small tree, Med tree
Family:
Rhamnaceae
Leaf:
Simple Alternate
Entire, elliptic to oblong-obvate, 70-170mm, leaf silver-white and covered in hairs below, smooth glossy green above.
Flower conspicuous:
Conspicuous
Flower colour:

Cream

Flower description:
Numerous branches of small, cream, scented flowers occur spring to autumn.
Fruit conspicuous:
Conspicuous
Fruit colour:

Black

Fruit:
Dry
Fruit description:
Dull, black, drupe-like, 10-15mm diameter dry capsules with a visible circular ring around the base, contains three cells each with a small brown seed with red-orange skin.
Habitat:
Rainforest.
Distribution
North east Queensland to north east New South Wales and Northern Territory.
Food source for:
Provides food for the larval stage of the Splendid ghost moth. Fruit and/or seeds are eaten by the southern cassowary, superb fruit-dove, white-headed pigeon, brown cuckoo-dove, crimsom rosella, sulphur-crested cockatoo, Australian king parrot, double-eyed fig-parrot, eclectus parrot, Lewin's honeyeater, varied triller, Victoria's riflebird and tooth-billed bower bird.
Toxicity:
No toxicity known
Origin:
Australia
Notes:
Information sources:
Melzer R. & Plumb J. (2007) Plants of Capricornia.