Weeping bottlebrush
Melaleuca viminalis, Fam. Myrtaceae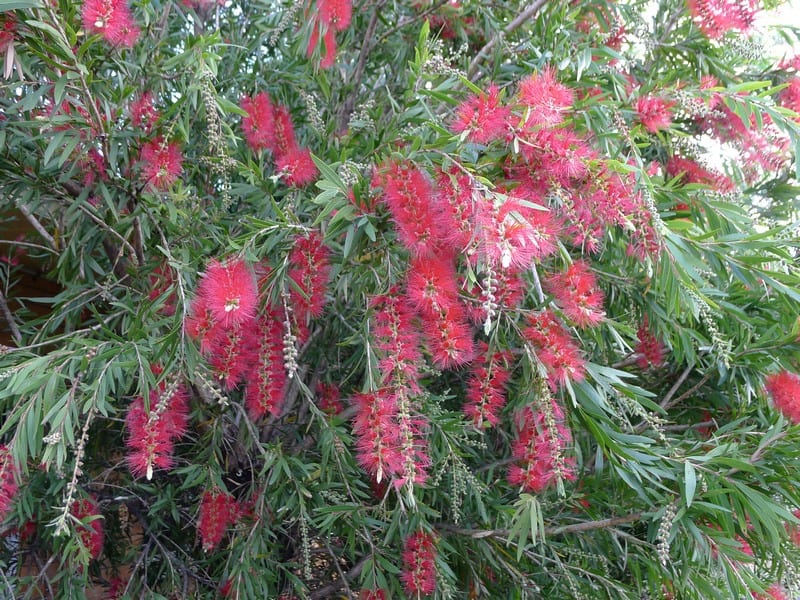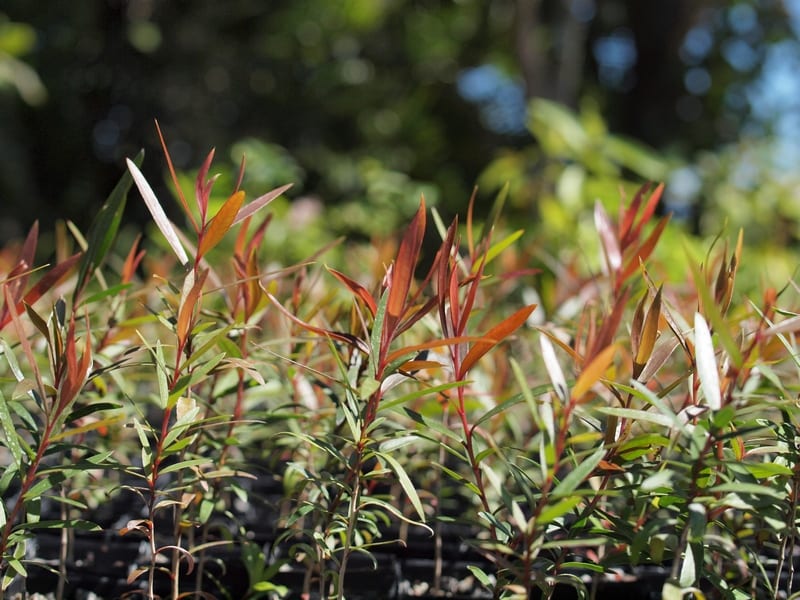 Weeping bottlebrush is a small shrub to small bushy tree, 1-12m high; usually a dense shrub to 8m in the tropics with pendulous or weeping branches. Known to almost everyone, this species is common in horticulture. Weeping bottlebrush is an important species for erosion control in waterways, being able to withstand inundation during floods and partial inundation by sand deposits. Previously Callistemon viminalis.
Weed Category:
Weed:
No
Form or habit:
Shrub, Small tree
Family:
Myrtaceae
Leaf:
Simple Alternate
Narrowly elliptic, 3-5-10 x 0.3-1.5cm. New growth covered in silky hairs.
Flower conspicuous:
Conspicuous
Flower colour:

Red

Flower description:
Bright red, borne on pendulous terminal spikes 5-20 x 3-6cm.
Fruit conspicuous:
Conspicuous
Fruit colour:

Brown

Fruit:
Woody capsule
Fruit description:
Brown, woody, cup-shaped, capsules, around 5mm diameter.
Habitat:
Gallery (riverine or riparian) forest.
Distribution
In the natural setting it is found along stream banks and beds of seasonal waterways from Cape York Peninsula to the Clarence River, NSW. It has a reasonably wide local distribution, but is more obvious in the Andromache River and O'Connell River catchments along the sandy river beds.
Food source for:
Nectar is eaten by many birds, flowers are eaten by lorikeets and the seeds are eaten by pale headed rosellas.
Toxicity:
No toxicity known
Origin:
Australia
Notes:
Gardeners note: heavy plantings of nectar rich plants in gardens may lead to a greater number of larger, noisy, more aggressive nectar eating birds which may reduce the diversity of smaller, less aggressive species. Planting a mix of species including those with more seed and/or fleshy fruits will result in a more balanced habitat.
Information sources:
Melzer R. and Plumb J. (2007) Plants of Capricornia., Townsend K. & the Society for Growing Australian Plant Townsville Branch Inc. (1994) Across the Top: Gardening with Australian Plants in the tropics.