Stinking cassia, Java bean, foetid cassia
Senna tora, Fam. Caesalpiniaceae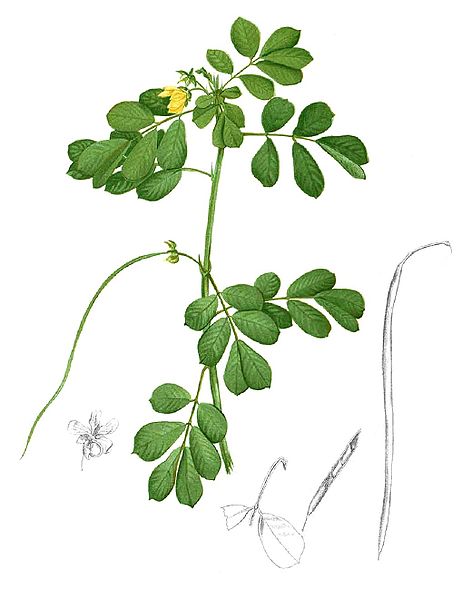 Erect annual or weak perennial sub-shrub to 1.5m tall, often much branched. Produces a distinctive very foetid smell when leaves are crushed
Weed Category:
Restricted invasive plants Category 3


Plants declared invasive under the Biosecurity Act 2014, that are present in QLD. Not to be distributed or disposed of.

Weed:
Yes
Form or habit:
Shrub
Family:
Caesalpiniaceae
Leaf:
Compound Alternate
Compound, alternate pinnate with opposite stalkless or shortly stalked leaflets, lacking a terminal leaflet; usually increasing in size from lower to upper pairs. Total length 50-60mm, including channelled 20-45mm stalk. Two to three pairs of dark green minutely hairy obovate leaflets, 25-55 x 10-35mm, usually with a rounded apex; 1-2 erect glands present between the lowermost pairs of leaflets.
Flower conspicuous:
Conspicuous
Flower colour:

Yellow

Flower description:
Yellow, somewhat orchid-like or cup-shaped with 5 sub-equal-sized petals; about 8-10mm long, borne in terminal or upper axillary 1-2 flowered groups.
Fruit conspicuous:
Conspicuous
Fruit colour:

Brown

Fruit:
Dry
Fruit description:
Pods light brown, cylindrical usually slightly curved, sparsely minutely hairy, 120-180 x 2-5mm, containing 20-30 cylindrical to slightly rhomboid flattened shiny olive-green to ginger brown seeds, about 4-5 x 2mm.
Habitat:
Distribution
Food source for:
Toxicity:
Toxic if ingested
Origin:
Probably native to the Asia-Pacific region
Notes:
To date this species has rarely been recorded in this district. Spread by: seeds expelled from opening pods, water, contaminated soil on machinery (harvesting, earthmoving, and 4WDs), animal hooves, manure, contaminated harvest material and fodder. Also in garden waste. Invades/threats: everywhere grazing, agriculture and the environment are all under threat. Weedy sennas produce numerous seeds that, in a short time, may accumulate a large soil seed-bank. As seeds remain viable for up to a decade or more, germination can take place over many years, whenever conditions are suitable. Most species are toxic to cattle and while mature pods and seeds are sometimes eaten, the plants are relatively unpalatable and soon die off. Category 3 restricted invasive plant under the Biosecurity Act 2014, it must not be given away, sold, or released into the environment without a permit. The Act requires everyone to take all reasonable and practical steps to minimise the risks associated with invasive plants and animals under their control. This is called a general biosecurity obligation (GBO).
Information sources:
Mackay Regional Pest Management Group (2018) Weeds of the Mackay Whitsunday Region Second Edition.