Star burr
Acanthospermum hispidum, Fam. Asteraceae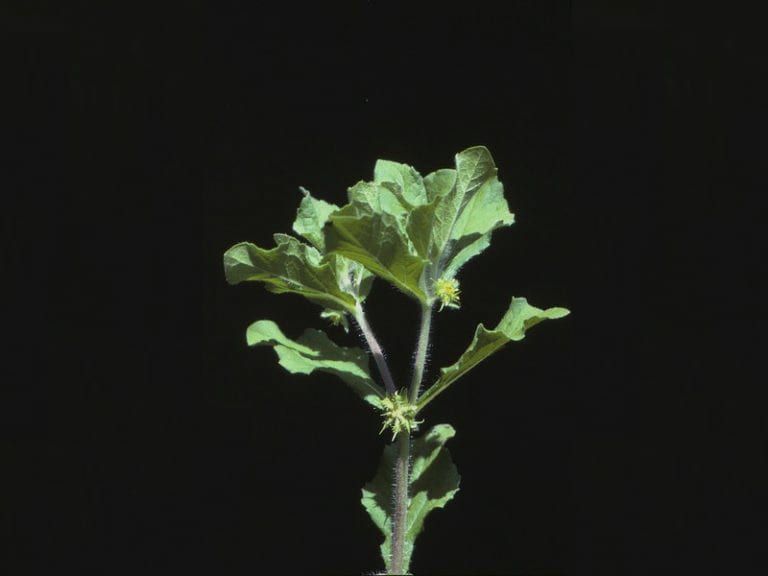 Upright annual herb 45-90cm, covered with coarse hairs, stems repeatedly forked.
Weed Category:
Other invasive plants


Invasive plants that are not prohibited or restricted invasive plants, but are known to spread readily and cause negative impacts, within the region.

Weed:
Yes
Form or habit:
Herb
Family:
Asteraceae
Leaf:
Simple Unknown
Opposite, yellowish-green, 25-50mm long, elliptic or ovate, hairy on both surfaces, either stalkless or with a winged stalk-like base up to 10mm long, toothed margins.
Flower conspicuous:
Inconspicuous
Flower colour:

Green

Flower description:
Solitary green heads, 4-5mm wide, borne in leaf axils and forks of stem.
Fruit conspicuous:
Conspicuous
Fruit colour:

Brown, Green

Fruit:
Dry
Fruit description:
Heads of 5-10 wedge-shaped 'seeds' radiating from centre forming a star-like burr. Green turning brown on maturity. Mature 'seeds' 6mm long, covered with short, hooked spines and with two stouter divergent spines, 3-4mm long, at the tip.
Habitat:
Distribution
Food source for:
Toxicity:
Toxic or irritant to domestic pets
Origin:
America
Notes:
Prickly 'seeds' adhere to 'everything', probably also water borne. Invades disturbed land and alluvial flats, will out-grow young cane. Occasionally seen on coastal dunes in this district.
Information sources:
Mackay Regional Pest Management Group (2018) Weeds of the Mackay Whitsunday Region Second Edition.