Spiny spider flower
Cleome aculeata, Fam. Cleomaceae prev. Capparaceae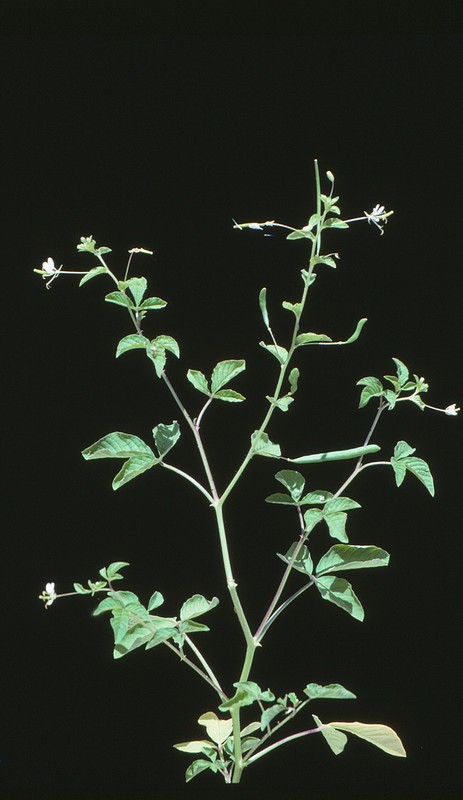 Prickly-stemmed, erect, branched annual herb, 20-60cm.
Weed Category:
Other invasive plants


Invasive plants that are not prohibited or restricted invasive plants, but are known to spread readily and cause negative impacts, within the region.

Weed:
Yes
Form or habit:
Herb
Family:
Cleomaceae prev. Capparaceae
Leaf:
Compound Alternate
Alternate, palmately dissected, lower leaves trifoliolate, reducing to a simple leaflet above. Leaflets oblong to obovate, 20-35 x 10-18mm, thin textured with clear glands and hairs; stalks to 45mm long. Stipules 2 short conical, recurved spines.
Flower conspicuous:
Conspicuous
Flower colour:

White

Flower description:
White, 5-10mm long, borne in few-flowered racemes.
Fruit conspicuous:
Conspicuous
Fruit colour:

Green

Fruit:
Fleshy
Fruit description:
Green, fleshy, erect, knobbly narrow cylindrical capsules, 30-60 x 3mm. Seeds numerous, resembling flattened snail shells, yellowish 2.5mm diameter.
Habitat:
Distribution
Food source for:
Toxicity:
No toxicity known
Origin:
Mexico, South America
Notes:
Spread by: seeds probably spread by water, contaminated soil and in garden waste. Invades: creek banks, roadsides, rainforest margins, pastures and gardens. May compete with young cane. Notes: known populations in this region occur between Mackay and Proserpine. Environmental weed.
Information sources:
Mackay Regional Pest Management Group (2018) Weeds of the Mackay Whitsunday Region Second Edition.