Spiked sida
Sida hackettiana, Fam. Malvaceae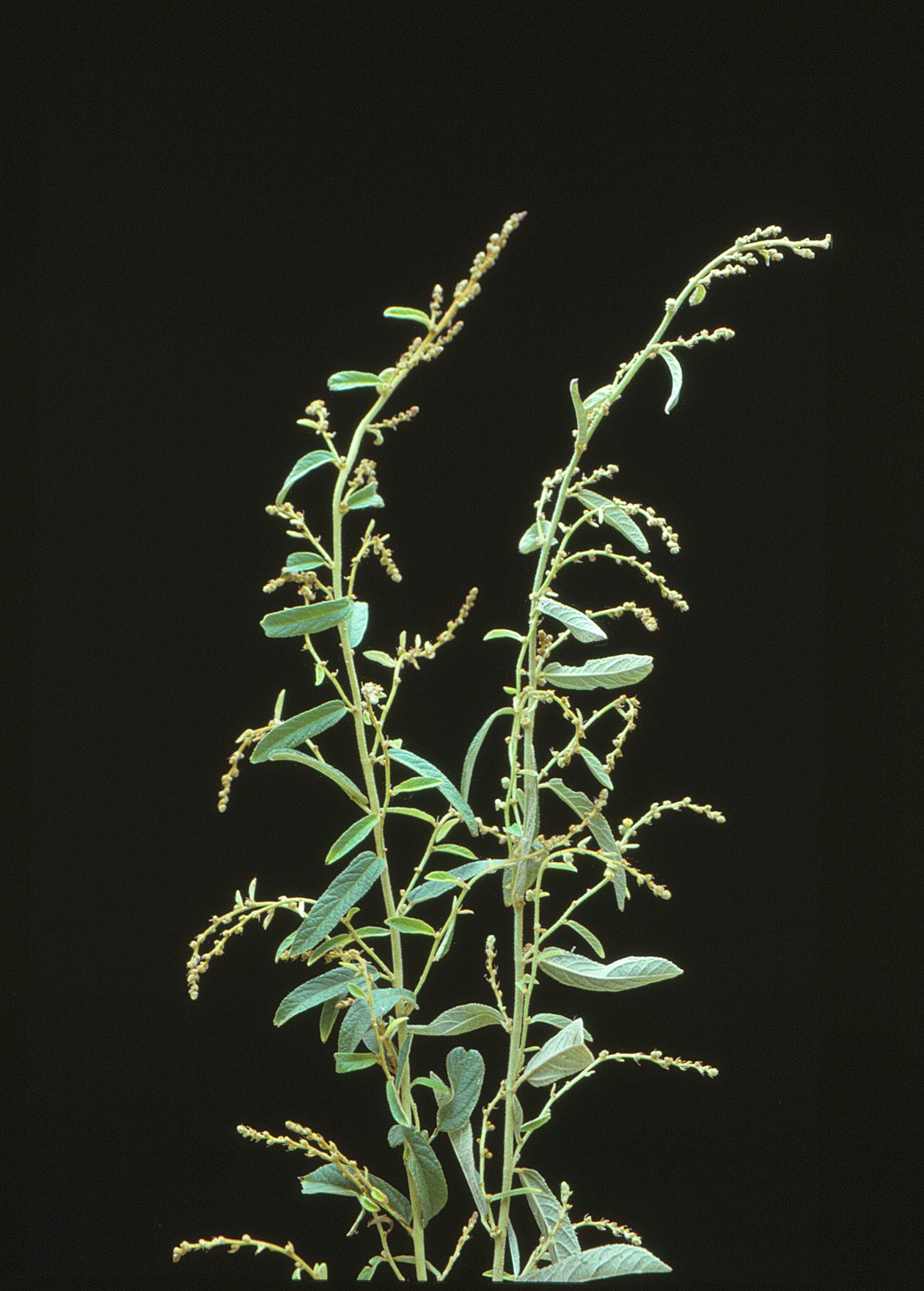 Perennial sub-shrub, variously hairy including star-shaped hairs, stems usually woody-based and strongly fibrous above. Spreading, densely hairy to 1.5m but usually shorter. Previously Sida subspicata.
Weed Category:
Other invasive plants


Invasive plants that are not prohibited or restricted invasive plants, but are known to spread readily and cause negative impacts, within the region.

Weed:
Yes
Form or habit:
Shrub
Family:
Malvaceae
Leaf:
Simple Alternate
Alternate simple, margins serrately toothed. Stipules present. Ovate to oblong, 20-100 x 5-40mm, grey-green, densely covered with fine matted star hairs on both surfaces, denser and paler on the underside; stipules linear.
Flower conspicuous:
Inconspicuous
Flower colour:

Yellow, Orange

Flower description:
Tiny, yellow to orange, in clusters of 2-3, borne along irregular terminal spikes.
Fruit conspicuous:
Inconspicuous
Fruit colour:

Brown

Fruit:
Dry
Fruit description:
Dry round brownish and radially separating into 1-seeded, wedge-shaped segments, with or without 2 fine bristles or points depending on species. Around 4-6mm diameter, separating into 4-5 segments with rounded apex, initially finely hairy, becoming glabrous with age. Calyx 5-lobed, persistent, 2.5-4mm long, woolly hairy with sharp pointed lobes.
Habitat:
Distribution
Food source for:
Toxicity:
No toxicity known
Origin:
Local native
Notes:
Spread by: segments spread by water, farm machinery, stock and in contaminated feed or seed. Bristly segments also adhere to clothing and animals. Invades/threats: pastures, open forests and disturbed areas along roadsides, headlands and stock camps. Notes: local native that appears to be more common on off-shore islands and in drier areas. It prefers lighter soils. It may invade newly planted improved pastures but is rarely eaten by cattle. Environmental weed.
Information sources:
Mackay Regional Pest Management Group (2018) Weeds of the Mackay Whitsunday Region Second Edition.