Small balloon vine, balloon vine
Cardiospermum halicacabum var. halicacabum, Fam. Sapindaceae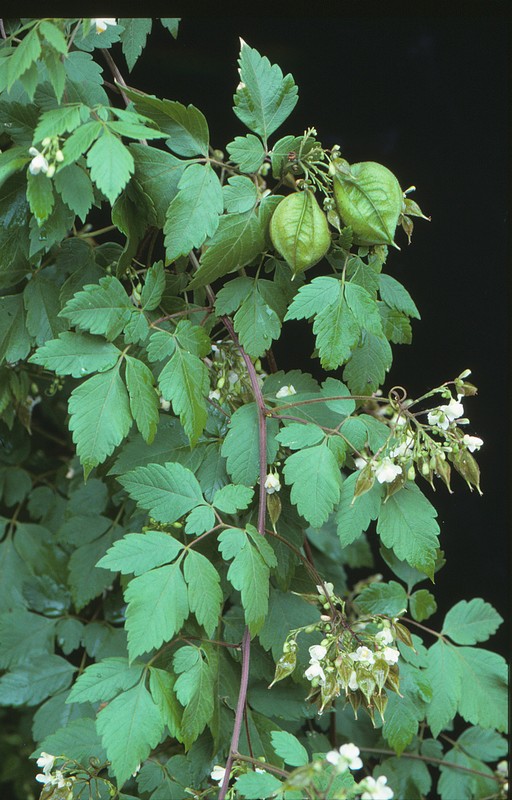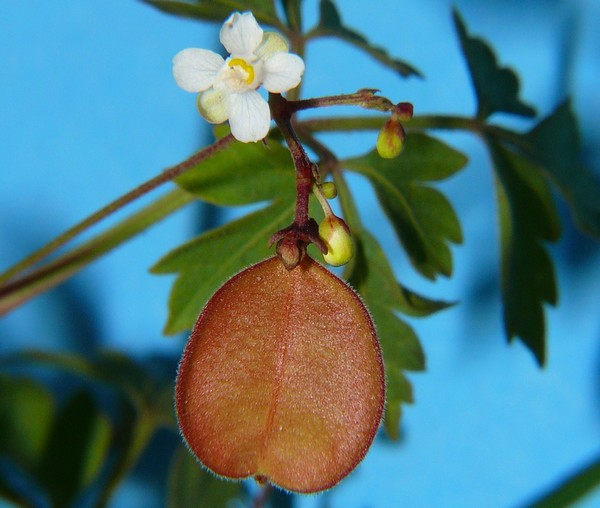 Slender annual herbaceous tendril climber with sparsely hairy stems and stalks.
Weed Category:
Other invasive plants


Invasive plants that are not prohibited or restricted invasive plants, but are known to spread readily and cause negative impacts, within the region.

Weed:
Yes
Form or habit:
Vine (Climbing, Twining or groundcover)
Family:
Sapindaceae
Leaf:
Compound Alternate
Alternate, compound, 50-70mm long with 9 coarsely toothed leaflets, 10-58 x 5-30mm, arranged in 3 groups of 3; central leaflet of each group larger than lower pair.
Flower conspicuous:
Conspicuous
Flower colour:

White, Yellow, Cream

Flower description:
White or cream with yellow margins, 4-petalled, 1-4mm long and borne on long-stemmed axillary sprays or umbels with 1 or 2 pairs of tendrils below the flowers.
Fruit conspicuous:
Conspicuous
Fruit colour:

Yellow, Cream

Fruit:
Dry
Fruit description:
Inflated hairy 3-valved, 6-ribbed capsules, 10-40 x 11-40mm, straw coloured at maturity, containing several black seeds, 3.5-5mm in diameter, with a 2-lobed white aril at base.
Habitat:
Distribution
Food source for:
Toxicity:
No toxicity known
Origin:
Tropical Asia, Africa and America
Notes:
Spread by: probably by birds and water. Invades: rainforest, creeks, swamps, floodplains and roadsides; may be a problem in sugar cane. Notes: introduced as a garden ornamental. More common in the Whitsundays but also recorded in the Pioneer valley. Balloon vine (C. grandiflorum), a Class 3 declared plant in Queensland, is a very similar species but is far more hairy and leaves, flowers, fruit and seeds are all larger. This species was recorded from Conway in the early 1990's but there have been no sightings recorded since.
Information sources:
Mackay Regional Pest Management Group (2018) Weeds of the Mackay Whitsunday Region Second Edition.