Silver- leaf desmodium
Desmodium uncinatum, Fam. Fabaceae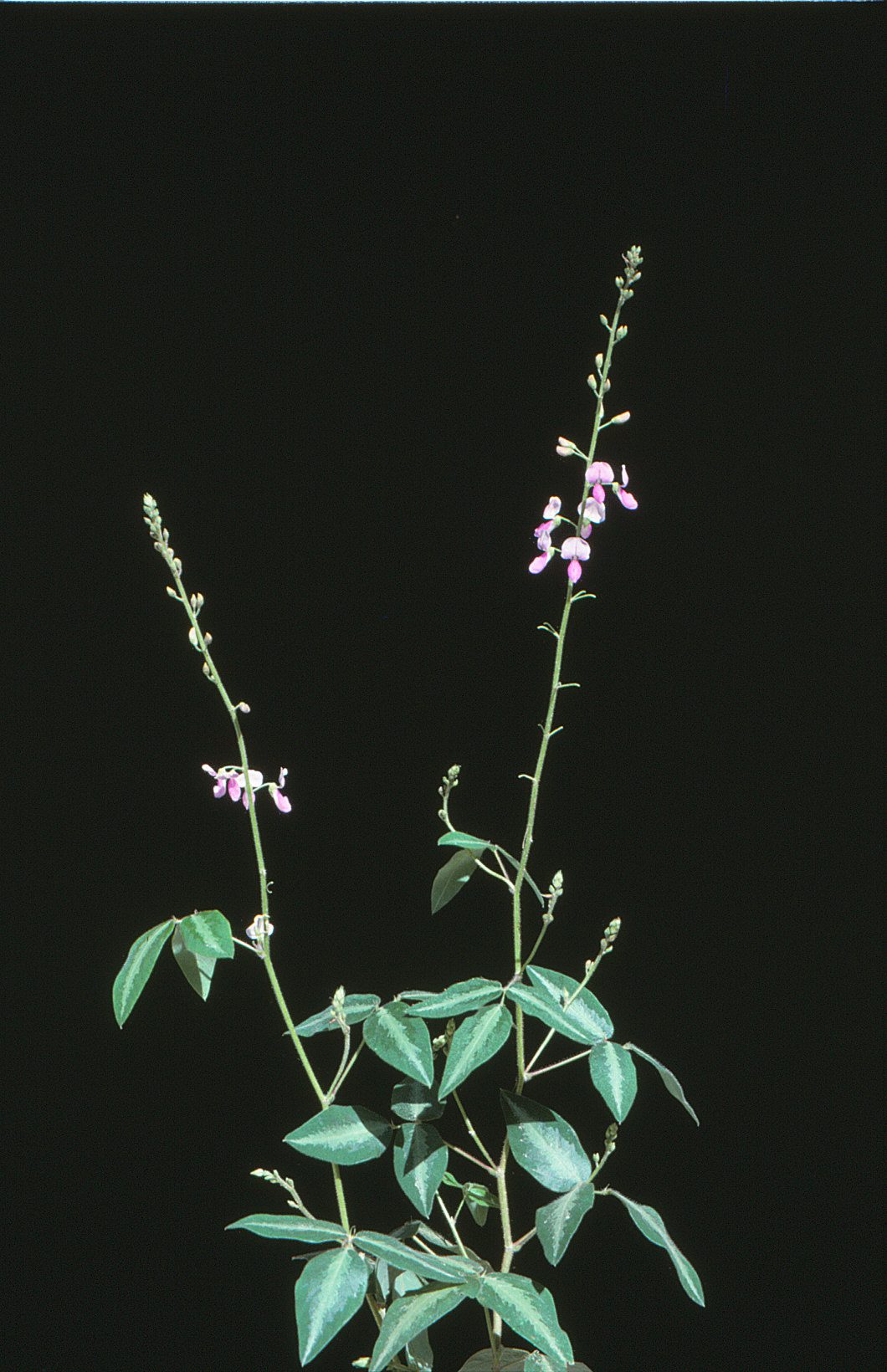 Vigorous perennial herb, with trailing stems to several metres long and up to 1m high at flowering, densely covered with short and hooked hairs. Stems in contact with soil will take root.
Weed Category:
Other invasive plants


Invasive plants that are not prohibited or restricted invasive plants, but are known to spread readily and cause negative impacts, within the region.

Weed:
Yes
Form or habit:
Herb
Family:
Fabaceae
Leaf:
Compound Alternate
Compound, alternate, leaflets elliptic to ovate, to about 60 x 15mm, hairy on both sides with a characteristic silver stripe along the midrib on the upper side, stalks 15-60mm long. Stipules 3-10mm long finely pointed, deciduous.
Flower conspicuous:
Conspicuous
Flower colour:

Blue, Pink

Flower description:
Pink fading to blue, about 10mm long.
Fruit conspicuous:
Conspicuous
Fruit colour:

Brown

Fruit:
Dry
Fruit description:
Brown flattened pods, 10-30 x 3-4mm with 3-10 segments, indented along lower and sometimes upper margin; breaking into 1 seeded segments at maturity.
Habitat:
Distribution
Food source for:
Toxicity:
No toxicity known
Origin:
South America
Notes:
Invades/threats: open forest and roadsides. Notes: introduced as a pasture species. Stems in contact with soil will take root. Many Desmodium species occur in this district, with the majority of them being native, so correct identification is essential, especial for managers of environmental areas. Environmental weed.
Information sources:
Mackay Regional Pest Management Group (2018) Weeds of the Mackay Whitsunday Region Second Edition.