Royal palm, Cuban royal palm
Roystonea regia, Fam. Arecaceae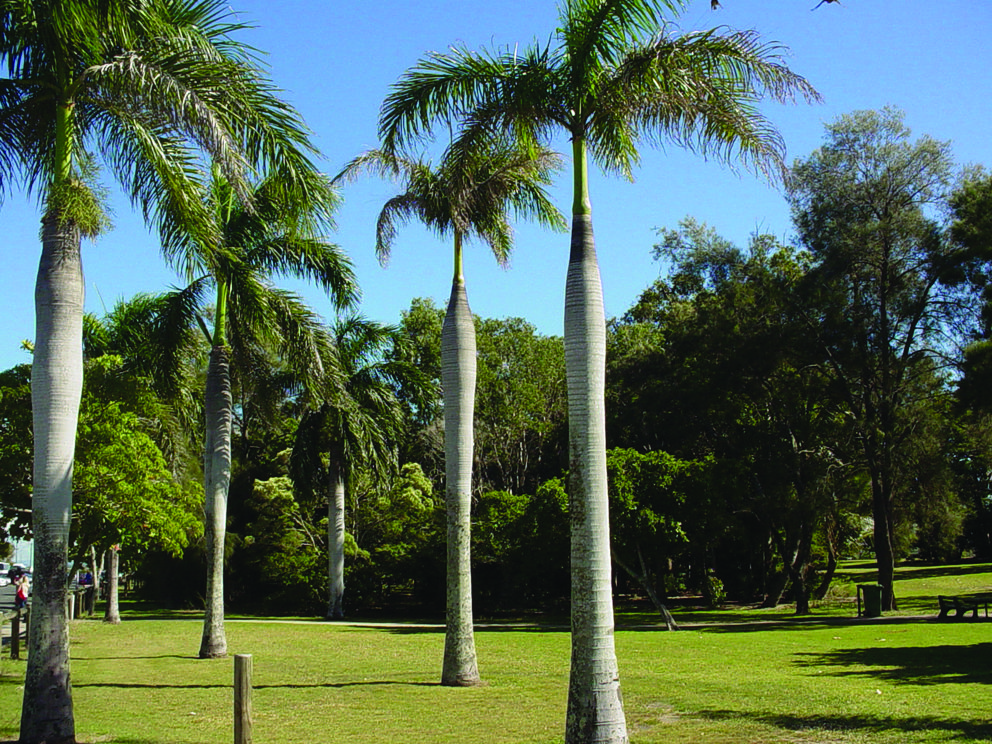 Solitary palm to 30m, massive grey trunk with obvious rings from leaf scars, often bulging in middle and narrowing toward the prominent green crown shaft (a series of tightly packed specialised tubular leaf bases.)
Weed Category:
Other invasive plants


Invasive plants that are not prohibited or restricted invasive plants, but are known to spread readily and cause negative impacts, within the region.

Weed:
Yes
Form or habit:
Palm or palm-like plant
Family:
Arecaceae
Leaf:
Compound Whorled
Compound, whorled, feathery pinnate dark green and spirally arranged above crown shaft, 3-6m long, with long narrow pointed leaflets arranged at different angles.
Flower conspicuous:
Conspicuous
Flower colour:

White

Flower description:
Numerous white cup-shaped, 3-7mm, borne on large broom-like sprays up to 1m long at base of crown shaft.
Fruit conspicuous:
Conspicuous
Fruit colour:

Black, Purple, Red

Fruit:
Fleshy
Fruit description:
Succulent oval drupes, 10mm long, red turning purplish-black on maturity, contain one shiny brown 'seed'.
Habitat:
Distribution
Food source for:
Toxicity:
No toxicity known
Origin:
Cuba
Notes:
Spread by: birds, bats, garden waste and water. Invades/threats: wetlands, creek banks and Melaleuca forests. Environmental weed.
Information sources:
Mackay Regional Pest Management Group (2018) Weeds of the Mackay Whitsunday Region Second Edition.