River she- oak
Casuarina cunninghamiana, Fam. Casuarinaceae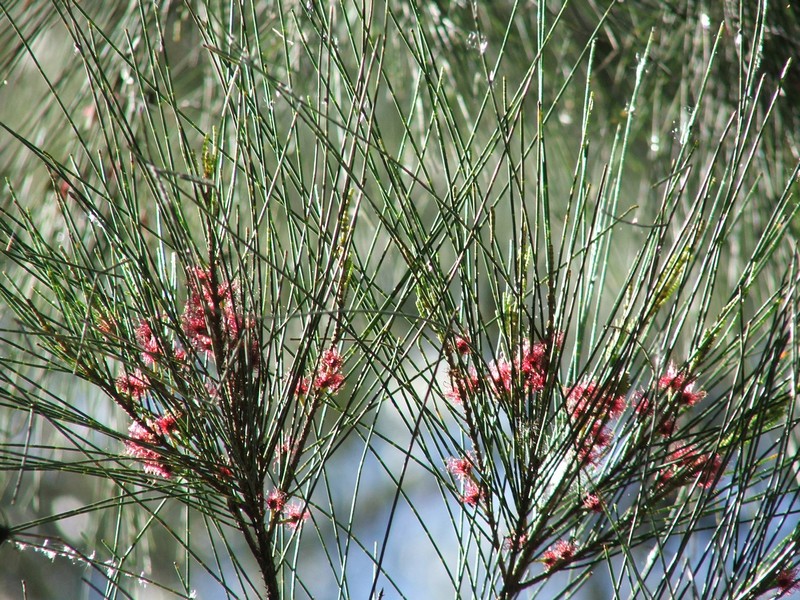 Tree reaching up to 30m high.
Weed Category:
Weed:
No
Form or habit:
Large Tree
Family:
Casuarinaceae
Leaf:
Unknown Whorled
No true leaves, leaves reduced to branchlets, branchlets in whorls of 8-10, teeth at the nodes of branchlets.
Flower conspicuous:
Conspicuous
Flower colour:

Red, Brown

Flower description:
Trees are male and female, male flowers are red-brown, cylindrical, on terminal spikes, 3-4cm long, female flowers red, globular spikes on older wood.
Fruit conspicuous:
Conspicuous
Fruit colour:

Grey

Fruit:
Dry
Fruit description:
Grey, globular cones, 0.7x1.4cm long and 0.4-0.6cm wide.
Habitat:
Gallery (riverine or riparian) forest
Distribution
Queensland, Northern Territory and New South Wales.
Food source for:
Seed consumed by the Australian king parrot, red-winged parrot, pale-headed and crimson rosellas and the sulphur-crested cockatoo. The river she-oak also provides food for the larva of thePernattia exposita moth.
Toxicity:
No toxicity known
Origin:
Australia
Notes:
Information sources:
Melzer R. & Plumb J. (2007) Plants of Capricornia., Townsend K. & the Society for Growing Australian Plant Townsville Branch Inc. (1994) Across the Top: Gardening with Australian Plants in the tropics.