Red- leaved alternanthera
Alternanthera brasiliana 'Rubiginosa', Fam. Amaranthaceae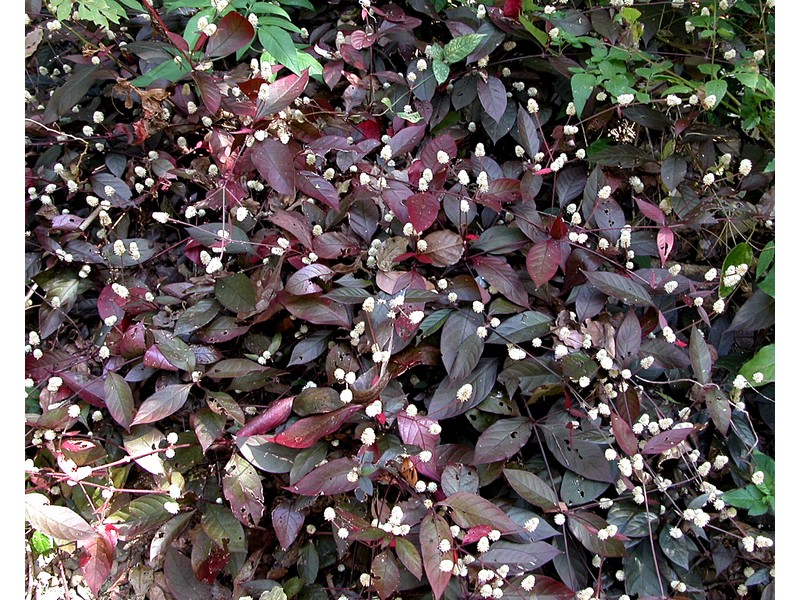 Herbaceous perennial, commonly planted in both amenity and home gardens to provide year-round colour. Previously Alternanthera dentata 'Rubiginosa'.
Weed Category:
Other invasive plants


Invasive plants that are not prohibited or restricted invasive plants, but are known to spread readily and cause negative impacts, within the region.

Weed:
Yes
Form or habit:
Herb
Family:
Amaranthaceae
Leaf:
Simple Opposite
Dark green to purple leaves, tapered at each end, become red to purplish the more sunlight they receive.
Flower conspicuous:
Conspicuous
Flower colour:

White, Cream

Flower description:
Many small, white to creamy, papery flowers in axillary 'heads'.
Fruit conspicuous:
Inconspicuous
Fruit colour:
Fruit:
Dry
Fruit description:
Tiny, one-seeded dry fruit, long lived.
Habitat:
Distribution
Food source for:
Toxicity:
No toxicity known
Origin:
Sub-tropical America
Notes:
Spread by: garden waste, self layers and grows from cuttings and seed. Invades/threats: environmentally sensitive areas with well drained but moist soils, creek lines, open forests and disturbed areas - particularly around garden waste dumping sites. Is capable of forming dense populations that dominate the ground layer. Still being used in horticulture.
Information sources:
Mackay Regional Pest Management Group (2018) Weeds of the Mackay Whitsunday Region Second Edition.