Red- head cotton bush
Asclepias curassavica, Fam. Apocynaceae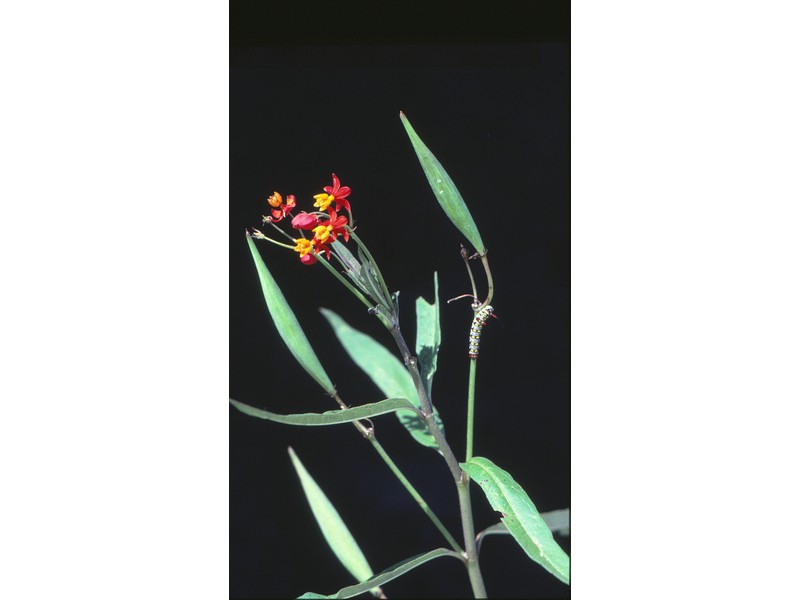 Erect perennial herb with copious milky sap, growing 1-1.5m. Stems green at the base and purplish toward the top.
Weed Category:
Other invasive plants


Invasive plants that are not prohibited or restricted invasive plants, but are known to spread readily and cause negative impacts, within the region.

Weed:
Yes
Form or habit:
Herb
Family:
Apocynaceae
Leaf:
Simple Opposite
Opposite, 70-100 x about 12mm, dark green, tapering at both ends, growing mainly from the upper stems.
Flower conspicuous:
Conspicuous
Flower colour:

Yellow, Red

Flower description:
Bright red with yellow centres, borne in terminal umbels.
Fruit conspicuous:
Conspicuous
Fruit colour:

Brown

Fruit:
Dry
Fruit description:
Narrow follicles tapered at each end and about 70 x 12mm. Seeds small, very light, tan to brown, 6-7mm long, with tufts of long, white silky hairs.
Habitat:
Distribution
Food source for:
Toxicity:
Toxic or irritant to domestic pets
Origin:
West Indies
Notes:
Spread by: wind dispersed seed Invades/threats: Disturbed or unmanaged areas, uncultivated pastures and along fence lines. Notes: probably introduced as a garden ornamental in 1880's, now common in coastal and sub-coastal areas. Poisonous to stock but rarely eaten.
Information sources:
Mackay Regional Pest Management Group (2018) Weeds of the Mackay Whitsunday Region Second Edition.