Pink Pearl
Cordia dichotoma, Fam. Boraginaceae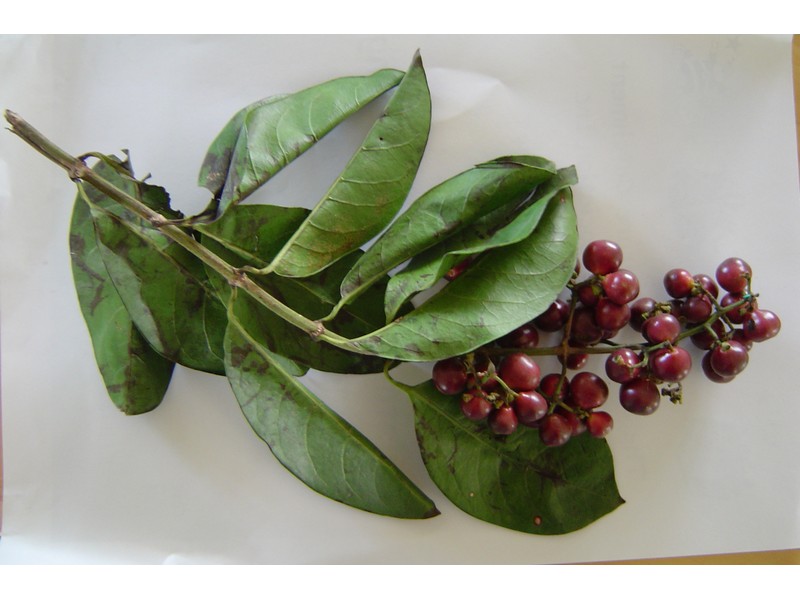 Small to medium tree with a spreading canopy, 5-20m high.
Form or habit:
Shrub or small tree,Tree
Latex:
Boraginaceae
Leaf:
Simple Opposite
Broad ovate to oblong, 3.5-21 x 2.5-10.5cm, hairy to sparsly hairy, petiole 1-5cm long.
Flower conspicuous:
Conspicuous
Flower colour:
White to yellowish or orange
Flower description:
Perfumed flowers in axillary cymes, from September to October.
Fruit conspicuous:
Conspicuous
Fruit colour:
Yellow to pearly-pink
Fruit:
Fleshy
Fruit description:
Ellipsoid drupes, 1.5-2cm long from September to January.
Habitat:
Gallery (Riverine or riparian) forest,Rainforest
Distribution
Coastal Queensland and Northern Territory
Food source for:
Frugivorous birds consume the fruits.
Toxicity:
No toxicity known
Origin:
Australia
Weed:
No
Weed status:
Notes:
The fruits are edible however the mucous-like texture may be considered a turn off.
Information sources:
Melzer R. & Plumb J. (2007) Plants of Capricornia.,Society for Growing Australian Plant Townsville Branch Inc. (1994) Across the Top Gardening with Australian Plants in the tropics.