Nut grass
Cyperus rotundus, Fam. Cyperaceae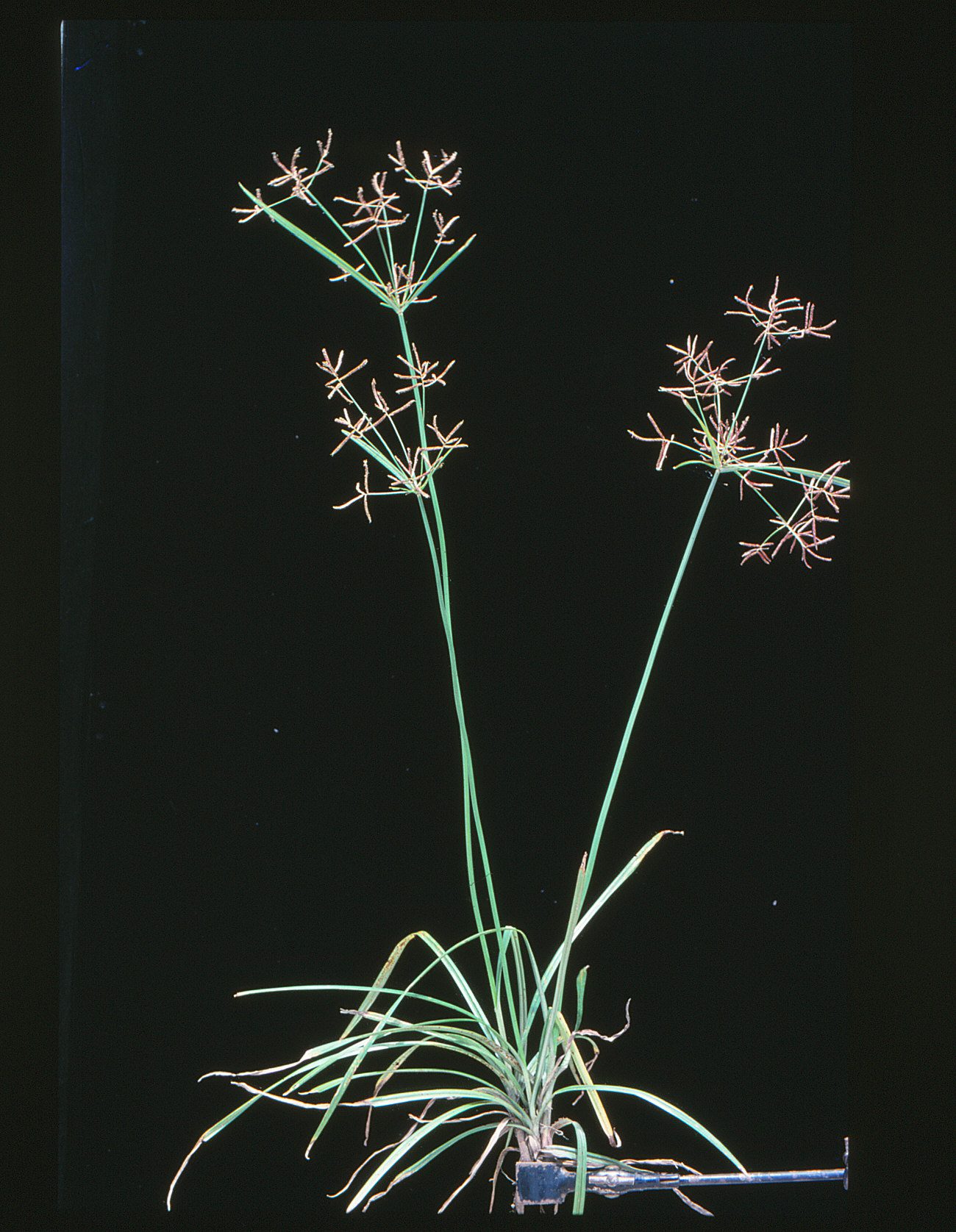 Perennial sedge to 40cm tall, stems rigid 3-angled, 1-2mm thick, with tuberous base; underground runners forming dark reddish-brown to black tubers, commonly referred to as 'nuts'.
Weed Category:
Other invasive plants


Invasive plants that are not prohibited or restricted invasive plants, but are known to spread readily and cause negative impacts, within the region.

Weed:
Yes
Form or habit:
Sedges, Rushes and allies
Family:
Cyperaceae
Leaf:
Simple Basal
Simple, basal, bright green clustered at ground level, 75-125 x 2-6mm, tapered to a fine point.
Flower conspicuous:
Conspicuous
Flower colour:

Red, Brown

Flower description:
Consist of 2-4 green leaf-like bracts and 4-5 branches of varying length, all arising at the top of a single thin triangular stem. Each branch carries a cluster of flattened rich red-brown spikelets, 10-25 x 2-2.5mm.
Fruit conspicuous:
Inconspicuous
Fruit colour:

Brown, Red

Fruit:
Dry
Fruit description:
This species seldom produces mature 'seeds'.
Habitat:
Distribution
Food source for:
Toxicity:
No toxicity known
Origin:
Africa
Notes:
Spread by: 'nuts' (tubers) in contaminated soil and garden waste. Invades/threats: cultivated soil and damp pastures; gardens and lawns. Can infest large areas. Notes: difficult to eradicate because 'nuts' can lie dormant in the soil. Environmental weed.
Information sources:
Mackay Regional Pest Management Group (2018) Weeds of the Mackay Whitsunday Region Second Edition.