Native olive
Chionanthus ramiflora, Fam. Oliaceae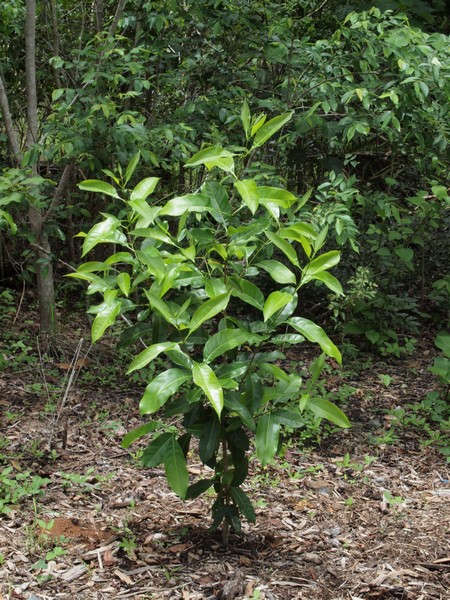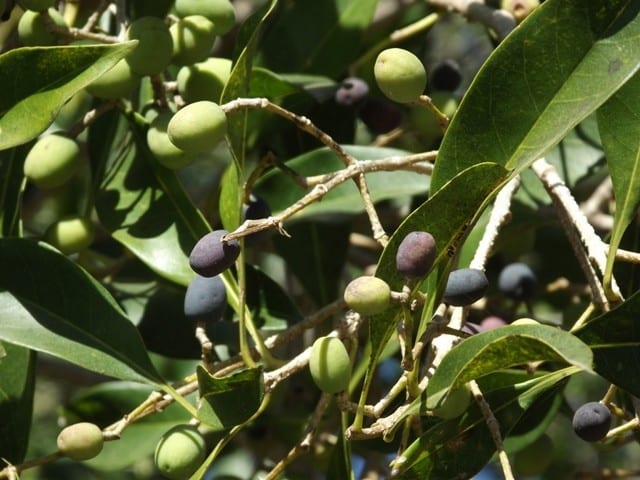 Small to medium hardy tree producing large amounts of purple olive-like fruit.
Weed Category:
Weed:
No
Form or habit:
Small tree, Med tree
Family:
Oliaceae
Leaf:
Simple Opposite
Opposite, to about 25 x 8cm. Elliptic to broadly oblong, dark green above and paler underneath. Has a prominently raised, lemon coloured mid-vein.
Flower conspicuous:
Conspicuous
Flower colour:

White, Cream

Flower description:
Small, lightly perfumed, 4 petalled white to cream flowers are borne in axillary sprays about 8cm long. Heavy flowerings have been observed in summer and further light flowerings in winter.
Fruit conspicuous:
Conspicuous
Fruit colour:

Purple

Fruit:
Fleshy
Fruit description:
Mature fruits are purple in colour, fleshy, contain one hard seed and resemble olives in shape and size.
Habitat:
Beach scrub, gallery (riverine or riparian) forest, littoral rainforest, rainforest.
Distribution
North Eastern Queensland.
Food source for:
Food for a range of marsupials and birds, including the golden bowerbird and topknot pigeon.
Toxicity:
No toxicity known
Origin:
Australia
Notes:
Chion meaning snow and anthus flowered, referring to the masses of white flowers.
Information sources:
Don Perrin. (1990) Dictionary of Botanical Names., Melzer R. & Plumb J. (2007) Plants of Capricornia., Society for Growing Australian Plants. Mackay Branch. (1989). One hundred and one trees of Mackay.