Native ginger
Alpinia caerulea, Fam. Zingiberaceae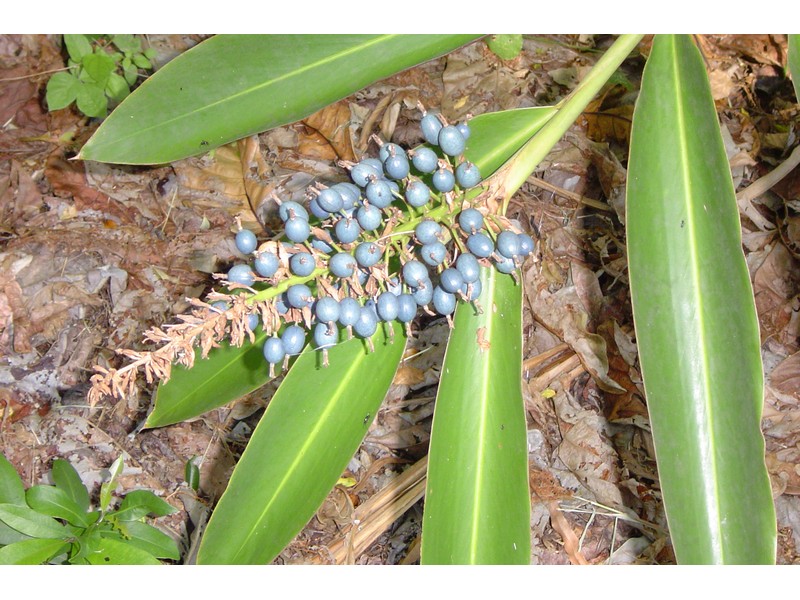 Clumping habit with stems up to 4m long above an underground rhizome.
Weed Category:
Weed:
No
Form or habit:
Herb
Family:
Zingiberaceae
Leaf:
Simple Alternate
Leaves broadly elliptical up to 40cm long by 10cm wide. The base of the leaf encloses the stem and leaves can have a red colour on the underside.
Flower conspicuous:
Conspicuous
Flower colour:

White, Cream, Pink

Flower description:
White, cream or pink flowers born on a terminal head approximately 25cm long. August to March.
Fruit conspicuous:
Conspicuous
Fruit colour:

Black, Blue, Green

Fruit:
Dry
Fruit description:
Green to blue to black when ripe. Each fruit contains approximately 30 seeds.
Habitat:
Beach scrub, gallery (riverine or riparian) forest, littoral rainforest, rainforest.
Distribution
Queensland and north-east New South Wales.
Food source for:
Toxicity:
No toxicity known
Origin:
Australia
Notes:
Fruits and young rhizomes are edible.
Information sources:
Beasley J. (2008) Plants of tropical North Queensland: The Compact Guide., Cooper W. & Cooper W.T. (2004) Fruits of the Australian Tropical Rainforest.