Mullumbimby couch
Cyperus brevifolius, Fam. Cyperaceae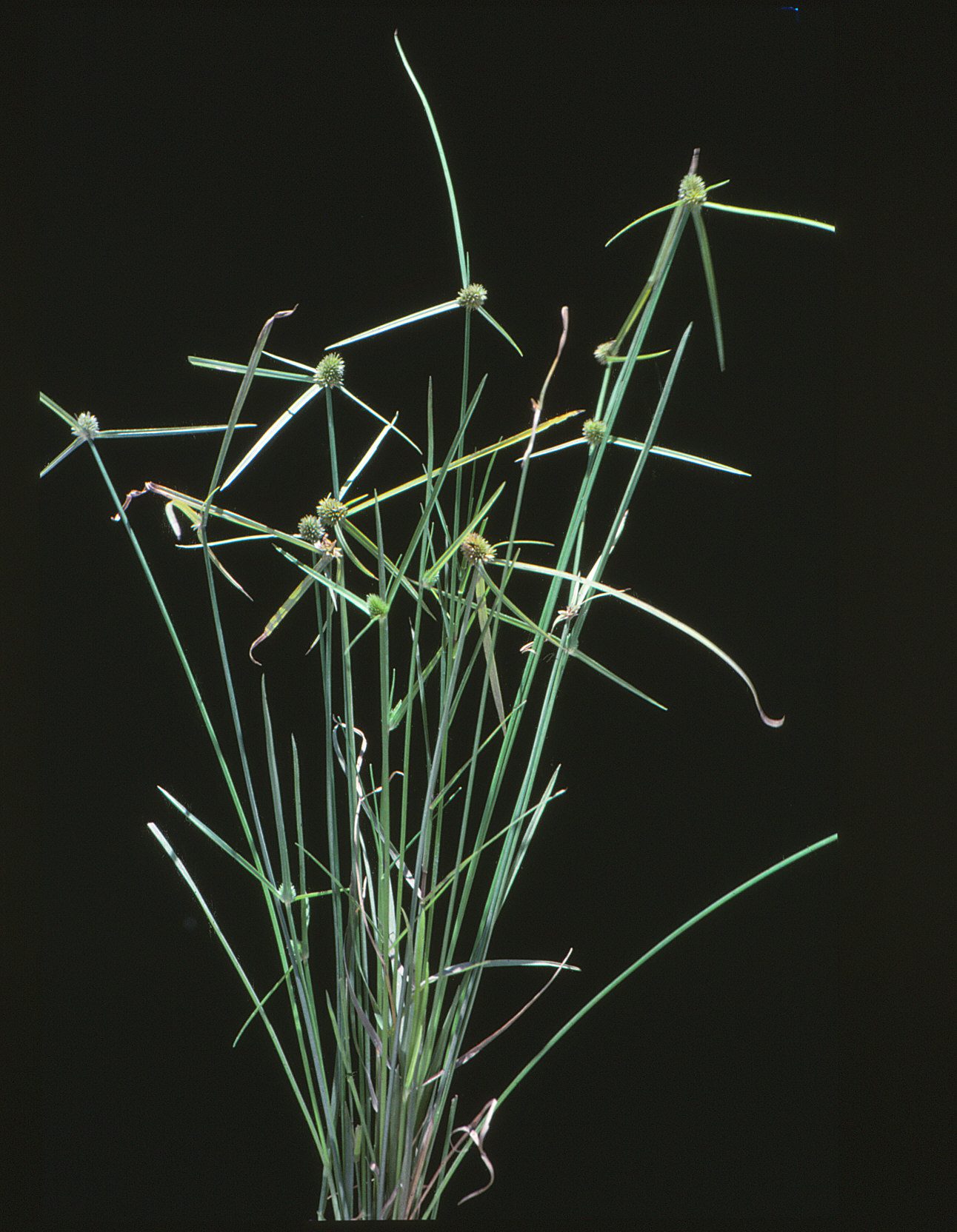 Perennial grass-like sedge with creeping pink-brown rhizomes; Stems smooth, triangular in cross-section, 5– 40cm tall, 0.05– 0.15cm wide. Previously Kyllinga brevifolia.
Weed Category:
Other invasive plants


Invasive plants that are not prohibited or restricted invasive plants, but are known to spread readily and cause negative impacts, within the region.

Weed:
Yes
Form or habit:
Sedges, Rushes and allies
Family:
Cyperaceae
Leaf:
Simple Basal
Simple, basal, shiny green, 1-3mm wide and, typical of all sedges, the basal sheath encloses the stem.
Flower conspicuous:
Inconspicuous
Flower colour:

Green

Flower description:
Pale green elongated dense knoblike, about 9mm across, sometimes 3-lobed at base, in the centre of 3-4 leaf-like bracts, borne at the top the stiff stem that protrudes above the leaves.
Fruit conspicuous:
Inconspicuous
Fruit colour:

Brown, Yellow

Fruit:
Dry
Fruit description:
Nuts yellow-brown, pear-shaped to elliptic to 1.5mm long, both surfaces convex; around 100 per head.
Habitat:
Distribution
Food source for:
Toxicity:
Origin:
Tropical Asia
Notes:
Spread by: nuts and rhizomes in garden waste, water, contaminated soil. Invades/threats: damp disturbed areas, gardens and lawns. Notes: widely naturalised within Australia. Does not respond to herbicide. There are numerous Cyperus spp. as well as other sedges that occur within this region. The vast majority of them are native species that play a useful role in the environment although some may be weedy if growing where they are not wanted. Environmental weed.
Information sources:
Mackay Regional Pest Management Group (2018) Weeds of the Mackay Whitsunday Region Second Edition.