Mother of millions
Bryophyllum delagoense, Fam. Crassulaceae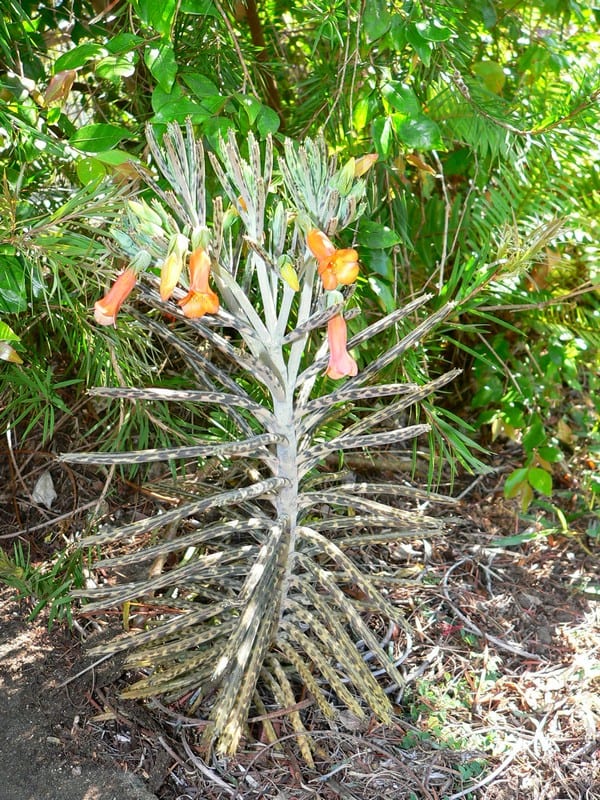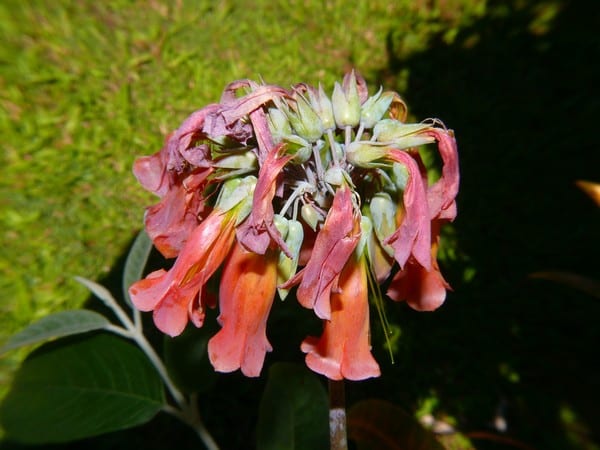 Erect smooth fleshy succulent perennial stiff-stemmed herbs to 1m, stems and leaves mottled. Previously Bryophyllum tubiflorum, Kalanchoe delagoensis.
Weed Category:
Restricted invasive plants Category 3


Plants declared invasive under the Biosecurity Act 2014, that are present in QLD. Not to be distributed or disposed of.

Weed:
Yes
Form or habit:
Herb, Succulent or cactus
Family:
Crassulaceae
Leaf:
Simple Opposite
Opposite fleshy pale green to pale brown with dark green patches, tubular grooved above, both species produce small plantlets in notches along leaf margins. B. delagoense 30-100mm long with toothed apex. B. x houghtonii boat shaped with toothed margins, up to 100 x 20mm including thick stalk.
Flower conspicuous:
Conspicuous
Flower colour:

Red, Orange

Flower description:
Orange-red, bell-shaped, 4-lobed, 2-3 cm long, drooping, in flat-topped clusters on tall stems.
Fruit conspicuous:
Conspicuous
Fruit colour:
Fruit:
Dry
Fruit description:
Papery and dry, to 10 mm long, remain enclosed in the old flower parts, deeply-divided into four sections and contain many small brown seeds (less than 1 mm long).
Habitat:
Distribution
Food source for:
Toxicity:
Toxic if ingested, toxic or irritant to domestic pets, toxic to native animals.
Origin:
South America and Africa
Notes:
Spread by: flood water, garden waste, contaminated soil, vegetatively from plantlets on detached leaves or plant pieces. Invades/threats: pasture land, roadsides, coastal areas. Notes: originated as garden ornamentals now widely naturalised in Queensland and increasing over substantial areas. New colonies establish quickly. Can withstand long periods of drought. Highly toxic to stock, particularly cattle. Category 3 restricted invasive plant under the Biosecurity Act 2014. It must not be given away, sold, or released into the environment without a permit. The Act requires everyone to take all reasonable and practical steps to minimise the risks associated with invasive plants and animals under their control. This is called a general biosecurity obligation (GBO). Live-leaf, resurrection plant (B. pinnatum) is also a serious weed of this district, especially in sandy coastal habitats. It can be distinguished by its pinnate succulent leaves with scalloped margins and its yellowish-green flowers often tinged with pink. Lower leaves are 1-foliate, but those above have 3-5 large lanceolate leaflets.
Information sources:
Mackay Regional Pest Management Group (2018) Weeds of the Mackay Whitsunday Region Second Edition.