Mock orange
Murraya paniculata 'Exotica', Fam. Rutaceae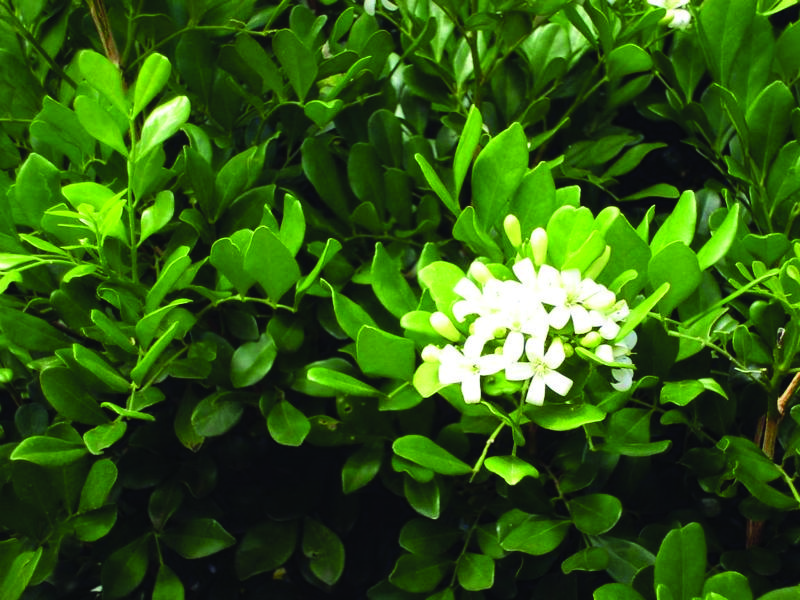 A shrub to small tree, often multi-stemmed, grey bark becoming fissured with age.
Weed Category:
Other invasive plants


Invasive plants that are not prohibited or restricted invasive plants, but are known to spread readily and cause negative impacts, within the region.

Weed:
Yes
Form or habit:
Shrub, Small tree
Family:
Rutaceae
Leaf:
Compound Alternate
Compound, alternate pinnate, 60-120mm long, leaflets 5-10 dark green elliptic to obovate, 10-90 x 5-60mm, smelling of citrus when crushed.
Flower conspicuous:
Conspicuous
Flower colour:

White

Flower description:
White 5-petalled, 20-40mm wide, borne in terminal and axillary sprays; similar in appearance and perfume to citrus flowers.
Fruit conspicuous:
Conspicuous
Fruit colour:

Orange, Red

Fruit:
Fleshy
Fruit description:
Fleshy berries, orange or red when ripe, 8-20 x 10mm, each containing 1-2 cream or brown seeds.
Habitat:
Distribution
Food source for:
Toxicity:
No toxicity known
Origin:
South east Asia
Notes:
Spread by: birds and garden waste. Invades/threats: creek bank communities, open forest and rainforest. Notes: garden escapee. Used extensively in landscaping and now widely naturalised. Environmental weed.
Information sources:
Mackay Regional Pest Management Group (2018) Weeds of the Mackay Whitsunday Region Second Edition.