INDIAN SHOT (WEED)
Canna indica, Fam. Cannaceae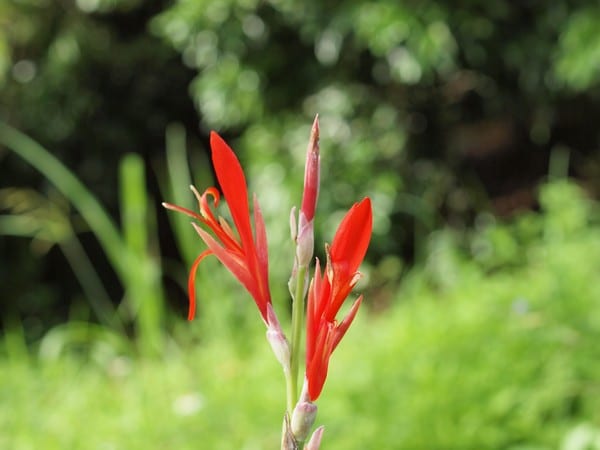 Perennial rhizomatous, unbranched, upright, glabrous herb to 2m tall.
Form or habit:
Herb
Latex:
Cannaceae
Leaf:
Simple Alternate
Alternate elliptic, up to 450 x 250mm, apex pointed, base narrowed into open tubular sheath, margins entire.
Flower conspicuous:
Conspicuous
Flower colour:
Red to Yellow
Flower description:
Irregular, borne above foliage on cane-like terminal spikes or on 2-flowered branches: red to yellow, up to 50 x 15mm.
Fruit conspicuous:
Conspicuous
Fruit colour:
Black or Brown
Fruit:
Dry
Fruit description:
Textured capsules, 20-30mm long with numerous round black or dark brown seeds, 5-6mm long.
Habitat:
Distribution
Food source for:
Toxicity:
No toxicity known
Origin:
Tropical America
Weed:
Yes
Weed status:
Environmental/garden escapee
Notes:
Spread by: Seeds, water, garden waste, vegetatively from rhizomes. Invades: Creek banks, Melaleuca forest, open wetlands and roadsides. Notes: Survives wet conditions. Indian Shot (C. indica) is the more often encountered species. Canna Lily (C x orchiodes) is a cultivated hybrid and does not produce viable seeds but reproduces vegetatively from rhizomes. A population has been recorded from near Hay Point. Environmental weed.
Information sources:
Mackay Regional Pest Management Group (2011) Weeds of the Mackay Whitsunday Region.