Hyptis, horehound
Hyptis suaveolens, Fam. Lamiaceae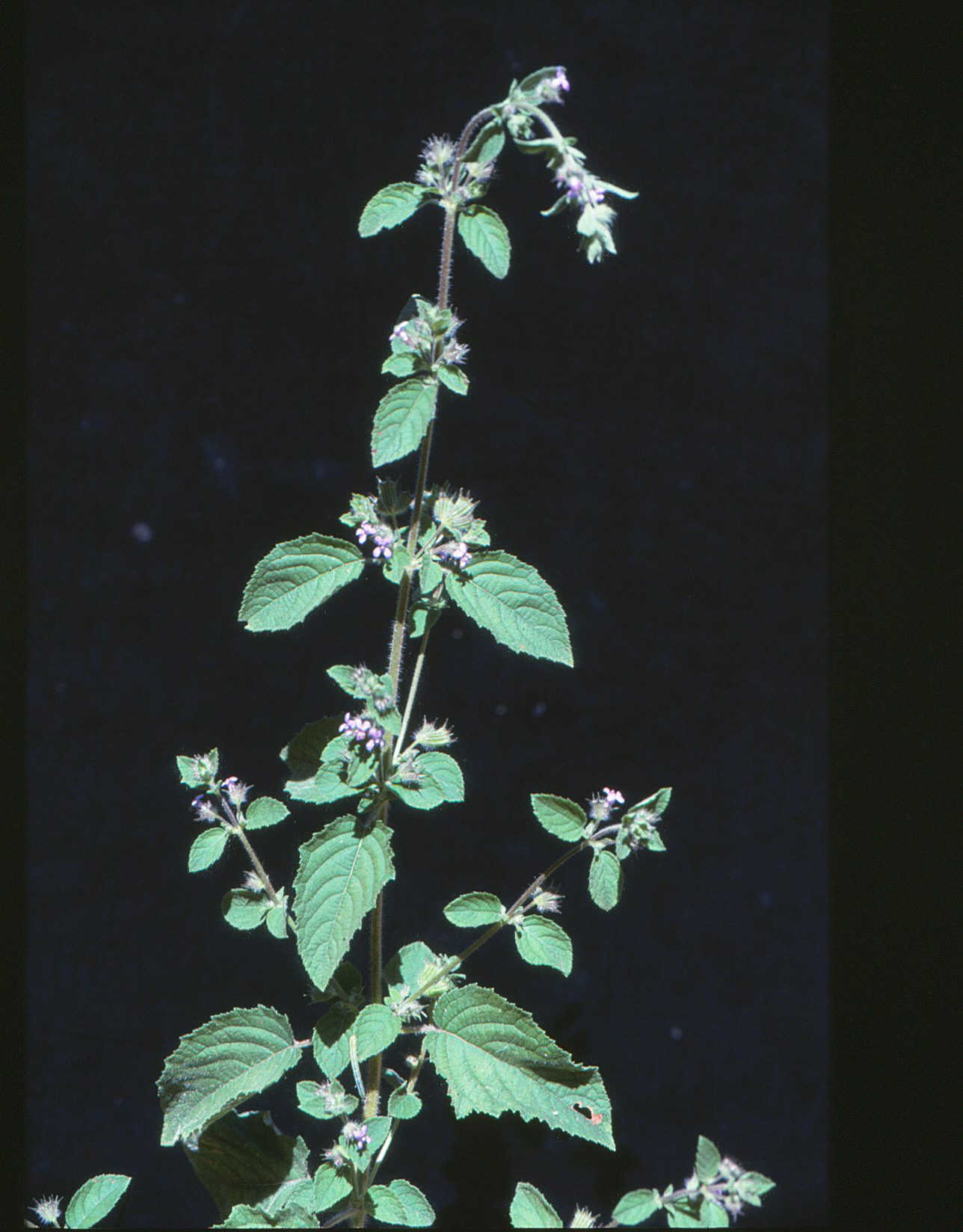 Erect annual strongly aromatic sub-shrub to 1.5m or more, with stiff woody based square stems; whole plant covered with glandular and non glandular hairs.
Weed Category:
Other invasive plants


Invasive plants that are not prohibited or restricted invasive plants, but are known to spread readily and cause negative impacts, within the region.

Weed:
Yes
Form or habit:
Shrub
Family:
Lamiaceae
Leaf:
Simple Opposite
Opposite simple, ovate or triangular 20-100 x 15-60mm, pointed at the tip, base heart-shaped to rounded, margins bluntly toothed; upper leaves reduced in size.
Flower conspicuous:
Conspicuous
Flower colour:

Blue, Purple

Flower description:
Small tubular unequally lipped, lavender-blue, borne in small axillary clusters along flowering branches.
Fruit conspicuous:
Conspicuous
Fruit colour:

Brown

Fruit:
Dry
Fruit description:
Four shield-like dark brown nutlets, 3-3.5mm wide contained within each hairy capsule-like, ridged tubular 4-lipped calyx, 5-12mm long, with 5 stiff bristles around the mouth.
Habitat:
Distribution
Food source for:
Toxicity:
No toxicity known
Origin:
Tropical America
Notes:
Spread by: seeds spread by vehicles and machinery, animals, in contaminated hay or pasture seed; 'capsules' float on water, adhere to 'everything'. Invades/threats: floodplain margins, open forests, disturbed areas and overgrazed pastures. Forms dense thickets. Notes: primarily in coastal areas in this region. Large seedbanks develop in the soil leading to prolific germination. There are scattered records for two other similar weedy Hyptis spp: knobweed (H. capita) grows to 2.5m and has white flowers borne in globular heads on long stems in upper leaf axils. Comb hyptis (H. pectinata) grows to 4m and has clusters of white, pale blue or pinkish flowers borne along the stems of many-branched floral sprays. Environmental weed.
Information sources:
Mackay Regional Pest Management Group (2018) Weeds of the Mackay Whitsunday Region Second Edition.