Goats foot morning glory
Ipomea pes-caprae subsp. brasiliensis, Fam. Convolvulaceae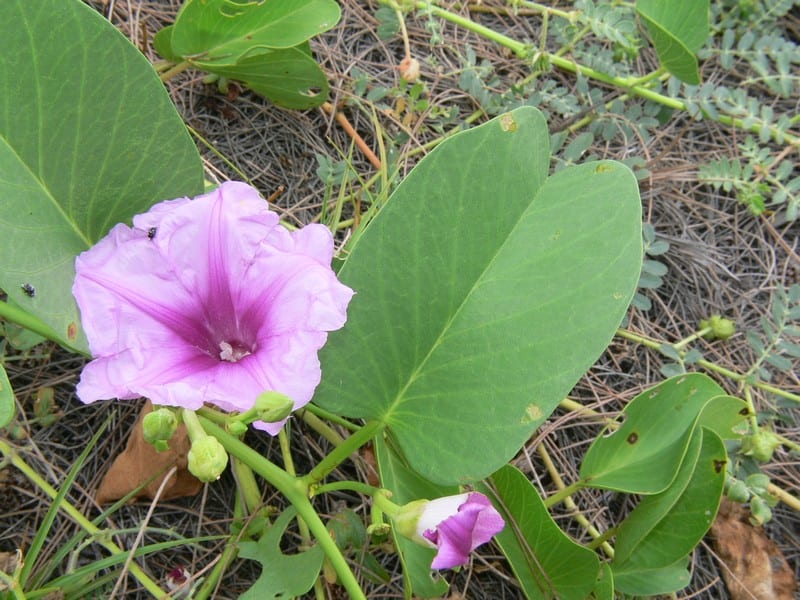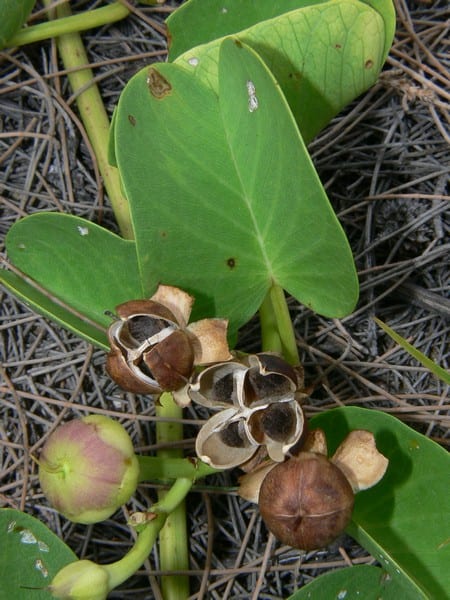 Perennial prostrate shrub with woody rootstock and slender trailing stems. Deciduous. This dune species provides a very important job in the form of stabilisation and is often the first plant to colonise new exposed areas. Ipomoea pes-caprae subsp. brasiliensis (pes-caprae is Latin for 'foot of a goat'), is aptly named from the shape of its leaf, and is mainly found on seaward slopes sending long runners down to the toe of the dunes. Although native to Australia, salt tolerant seeds float and are well dispersed by the ocean leading to a large distribution world wide.The creeper provides an important stabilising function on foredunes and helps to prevent further erosion from prevailing winds. Aboriginal people utilised the leaves and roots as a food source and used a decoction of the flowers to treat box jelly fish stings.


Weed Category:
Weed:
No
Form or habit:
Vine (Climbing, Twining or groundcover)
Family:
Convolvulaceae
Leaf:
Simple Unknown
Leaf blades are roughly oval in shape, 3-14cm long, 2.5-12cm wide, and notched at the tip to give a 2-lobed effect. Leaves are on petioles varying in length from 2-16cm.
Flower conspicuous:
Conspicuous
Flower colour:

Purple, Pink

Flower description:
Pink to purple bell shaped flowers, 3-7cm in length, borne on a stalk that is sometimes branched bearing several flowers.
Fruit conspicuous:
Conspicuous
Fruit colour:

Brown

Fruit:
Dry
Fruit description:
Brown, capsules, globular to depressed globular, 1.2-1.7cm in diameter. July to February.
Habitat:
Beach strand, coastal dune.
Distribution
Common along the entire Queensland and upper NSW coastal regions.
Food source for:
Toxicity:
No toxicity known
Origin:
Australia
Notes:
Information sources:
Department of Environmental Resource Management (2003) Goats foot convolvulus (Ipomea pes-caprae). Description of major dune plants IV-03 Coastal sand dunes: their vegetation and management.