Giant sensitive plant
Mimosa diplotricha var. diplotricha, Fam. Mimosaceae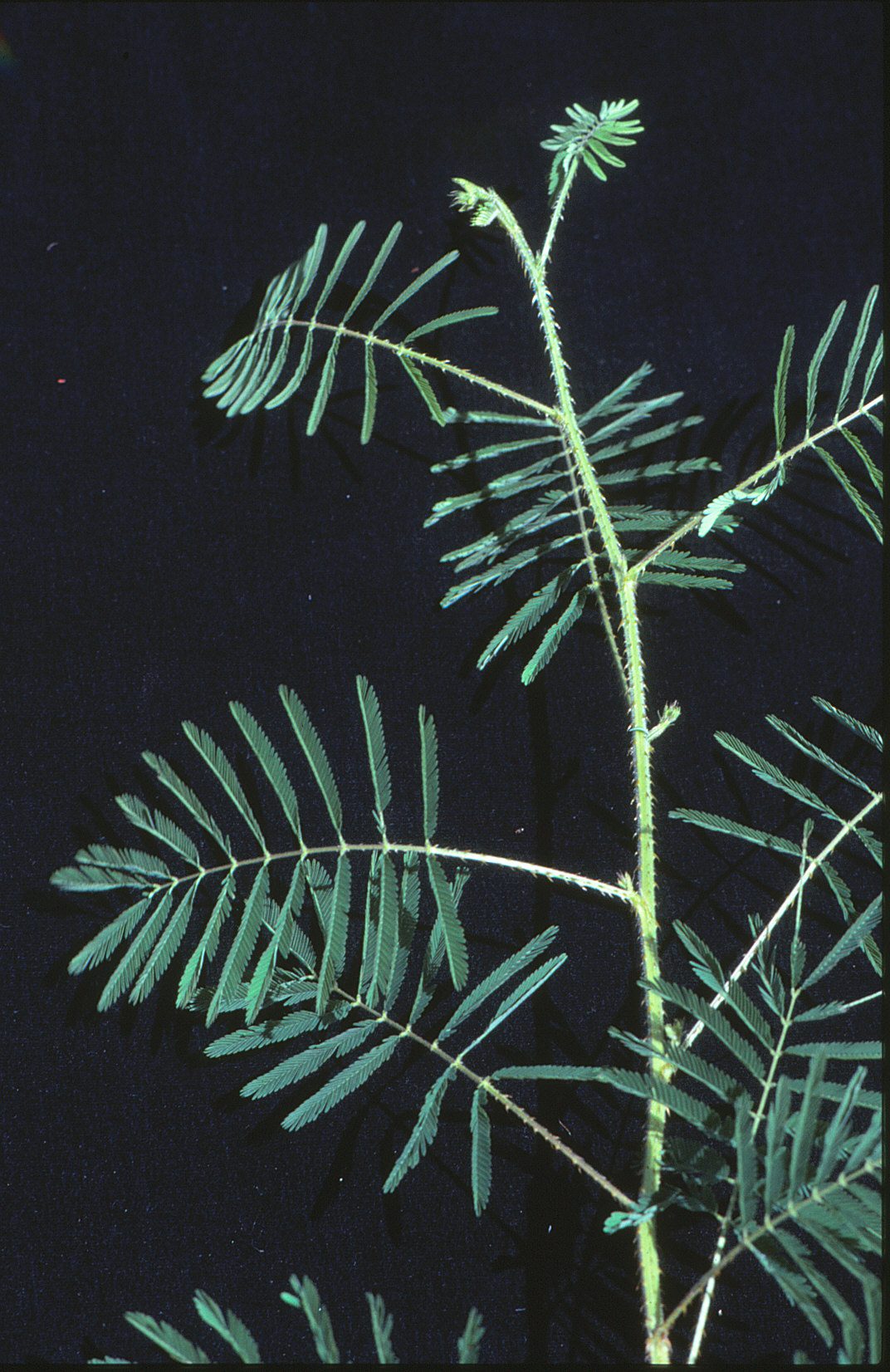 Profusely branched sub-shrub with four-angled stems to 5m long that have a line of sharp spines 3-6mm long. Sprawls over other plants. Previously Mimosa invisa.
Weed Category:
Restricted invasive plants Category 3


Plants declared invasive under the Biosecurity Act 2014, that are present in QLD. Not to be distributed or disposed of.

Weed:
Yes
Form or habit:
Shrub
Family:
Mimosaceae
Leaf:

Alternate bipinnate with feathery fern-like bright green pinnae, each with small paired leaflets. Leaflets fold when touched or injured and at night. 70-40mm long, with 5-7 pairs of pinnae, each with 12-30 pairs of small leaflets. Both leaf stalk and rachis are armed with recurved spines.
Flower conspicuous:
Conspicuous
Flower colour:

Purple, Pink

Flower description:
Tiny pale pink to purplish in fluffy globular heads, borne on short stalks in the leaf axils. 12 mm across, 1-3 heads in each leaf axil.
Fruit conspicuous:
Conspicuous
Fruit colour:

Brown

Fruit:
Dry
Fruit description:
Pods clustered, dark brown flat prickly and breaking into one-seeded segments when mature. Pods 15-35 x 4-6mm, prickly along margins and over the 4-5 seeds. Seeds hard glossy light brown or black, about 3.5mm long.
Habitat:
Distribution
Food source for:
Toxicity:
No toxicity known
Origin:
Brazil
Notes:
Spread by: seeds retained in buoyant segments spread by water, in contaminated soil on vehicles, machinery and stock; also adhere to clothing and fur. Invades/threats: cropping land, grassland and native vegetation, impacting on natural environments and agricultural productivity. Notes: a serious weed in the wet tropics and recorded in this region from time to time. Actively controlled whenever found. One infestation suspected to have been introduced in contaminated seed. Seed life up to 50 years. Plants as small as 100mm are able to produce seed. Category 3 restricted invasive plant under the Biosecurity Act 2014, it must not be given away, sold, or released into the environment without a permit. The Act requires everyone to take all reasonable and practical steps to minimise the risks associated with invasive plants and animals under their control. This is called a general biosecurity obligation (GBO).
Information sources:
Mackay Regional Pest Management Group (2018) Weeds of the Mackay Whitsunday Region Second Edition.