Forest siris
Albizia procera, Fam. Mimosaceae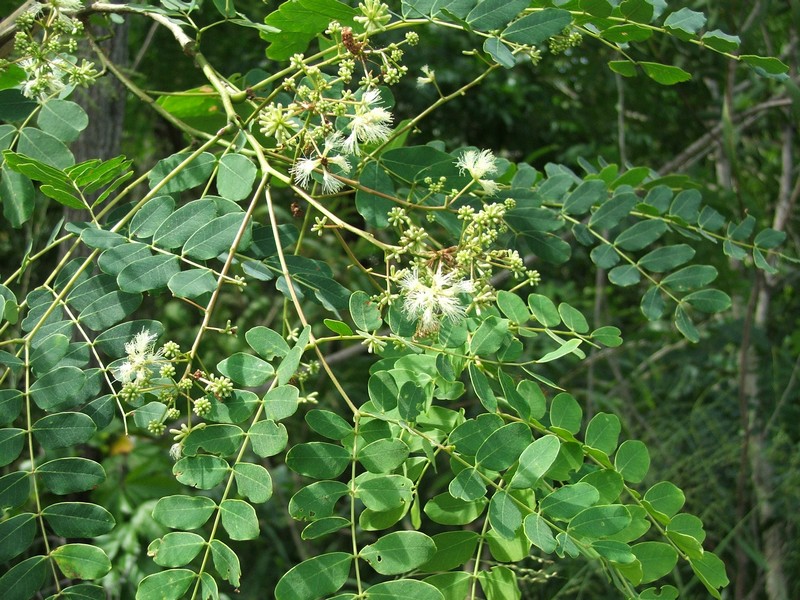 Moderately tall tree with smooth pale cream-grey bark and semi-deciduous. The timber is termite resistant and useful for furniture, carving and boat construction. It is useful as a shade tree and for revegetating in poor soils, due to its ability to fix nitrogen.
Weed Category:
Weed:
No
Form or habit:
Large Tree
Family:
Mimosaceae
Leaf:
Compound Alternate
Alternate, bipinnate leaves, a large gland is present near primary leaf base axis, up to five pairs of secondary leaf axis, widely spaced oblong leaflets, 35 x 20mm, primary axis can reach up to 50cm and secondary axis up to 20cm long.
Flower conspicuous:
Conspicuous
Flower colour:

White, Yellow, Cream, Green

Flower description:
Green, white cream or pale yellow, fluffy flowers with numerous stamens borne in terminal clusters. September to October.
Fruit conspicuous:
Conspicuous
Fruit colour:

Brown

Fruit:
Dry
Fruit description:
Brown, thin, papery seed pods, 250 x 25mm. Pod contains 6-12 light brown seeds.
Habitat:
Open forest, Vine thicket, woodland.
Distribution
Queensland, Northern Territory, Western Australia, New Guinea.
Food source for:
Toxicity:
No toxicity known
Origin:
Australia, New Guinea.
Notes:
A hardy shade tree. Propagate from treated seed or cuttings.
Information sources:
Atlas of Living Australia (2022) Albizia procera (Roxb.) Benth., Townsend K. & the Society for Growing Australian Plant Townsville Branch Inc. (1994) Across the Top: Gardening with Australian Plants in the tropics., Society for Growing Australian Plants. Mackay Branch. (1989). One hundred and one trees of Mackay.