Fleabanes
Conyza bonariensis (Flaxleaf Fleabane), Conyza canadensis var. pusilla (Canadian Fleabane), Conyza sumatrensis (Tall Fleabane), Fam. Asteraceae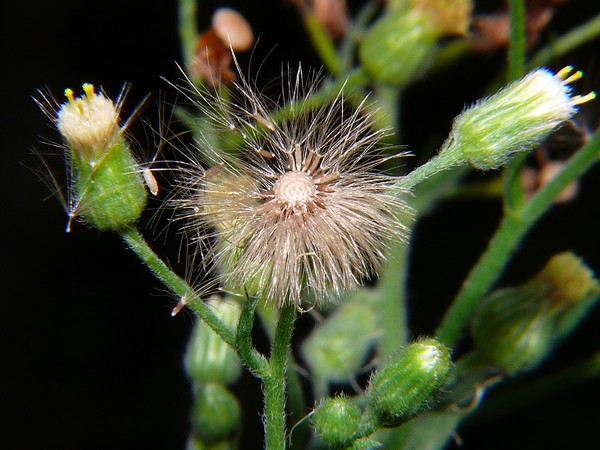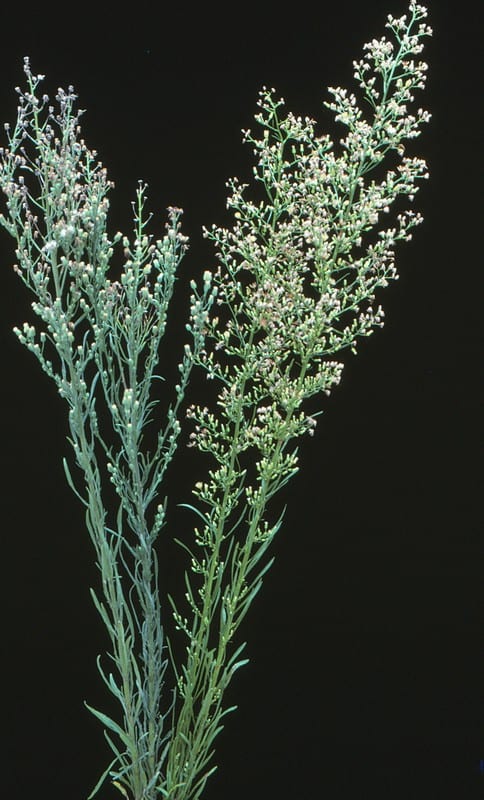 Robust, variously hairy, erect annual herbs, much branched in upper flowering part. C. bonariensis to 1m, other two species to 2m.
Weed Category:
Other invasive plants


Invasive plants that are not prohibited or restricted invasive plants, but are known to spread readily and cause negative impacts, within the region.

Weed:
Yes
Form or habit:
Herb
Family:
Asteraceae
Leaf:
Simple Alternate
Alternate on stems, basal leaves larger, radical in some species, upper leaves reducing in size. C. canadensis almost stalkless, linear-obovate, margins entire or sparsely toothed to 40-100 x 3-6mm, with or without spreading hairs on midrib and margins. C. bonariensis and C. sumatrensis with stalks to 40mm long on radical leaves, almost stalkless above, narrowly ovate to elliptic, margins toothed or deeply indented with long soft hairs and/or short rough ones.
Flower conspicuous:
Conspicuous
Flower colour:

White

Flower description:
Small, white, fluffy heads in loose sprays. Depending on species, head-bearing areas range 500-700mm and heads 3-6mm long.
Fruit conspicuous:
Inconspicuous
Fruit colour:
Fruit:
Dry
Fruit description:
'Seeds' compressed, smooth or with a nerve on each side depending on species; between 1-3mm long with 'umbrella' of light hairs to 3mm long. Produced by the thousands and highly viable.
Habitat:
Distribution
Food source for:
Toxicity:
Origin:
America
Notes:
Spread by: 'seeds' dispersed long distances by wind. Invades: roadsides, disturbed and fallow areas; compete for water in crop situations; particularly common in minimum or zero tillage farming systems. Notes: susceptible to herbicide resistance, particularly glyphosate. A native species, C. leucantha, that has sticky hairs, is also present in this region and is probably equally as common as the introduced species. Correct identification is essential, especially for managers of conservation areas. Environmental weed.
Information sources:
Mackay Regional Pest Management Group (2018) Weeds of the Mackay Whitsunday Region Second Edition.