Flannel weed
Sida cordifolia, Fam. Malvaceae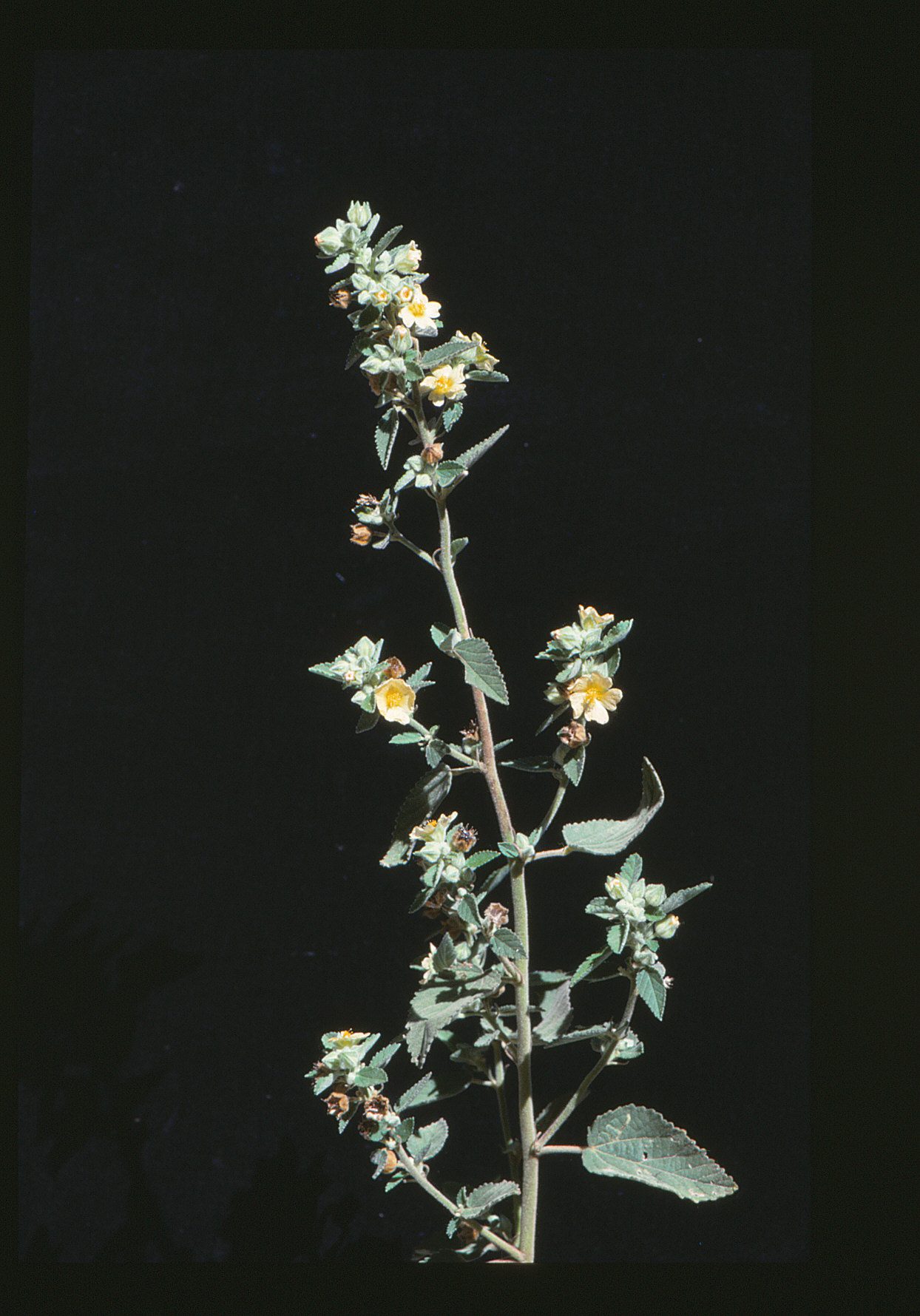 Perennial sub-shrubs, variously hairy including star-shaped hairs, stems usually woody-based and strongly fibrous above. Branched, upright densely hairy, to 1.5m.
Weed Category:
Other invasive plants


Invasive plants that are not prohibited or restricted invasive plants, but are known to spread readily and cause negative impacts, within the region.

Weed:
Yes
Form or habit:
Shrub
Family:
Malvaceae
Leaf:
Simple Alternate
Alternate simple, margins serrately toothed. Stipules present. Ovate yellowish-green, 35-75 x 25-60mm on stout stalks. Heart shaped base, blunt at the tip; densely felted with soft hairs giving a flannel-like texture; stipules thread-like.
Flower conspicuous:
Conspicuous
Flower colour:

Yellow

Flower description:
Pale yellow, 8-10mm long, in dense clusters, 5-petalled.
Fruit conspicuous:
Inconspicuous
Fruit colour:

Brown

Fruit:
Dry
Fruit description:
Dry round brownish and radially separating into 1-seeded, wedge-shaped segments. About 6-8mm in diameter; segments 8-10, each with 2 fine bristles about 3mm long. Calyx 5-lobed, persistent, 6-7mm long, hairy, 10 ribbed at the base, lobes tapering to a point.
Habitat:
Distribution
Food source for:
Toxicity:
No toxicity known
Origin:
Probably native of America
Notes:
Spread by: segments spread by water, farm machinery, stock and in contaminated feed or seed. Bristly segments also adhere to clothing and animals. Invades/threats: pastures, open forests and disturbed areas along roadsides, headlands and stock camps. Notes: presence is usually indicative of disturbance or over grazing. this species is very common in this region. There are also other less common weedy species in this region. Environmental weed.
Information sources:
Mackay Regional Pest Management Group (2018) Weeds of the Mackay Whitsunday Region Second Edition.