Crinum Lily
Crinum pedunculatum, Fam. Amaryllidaceae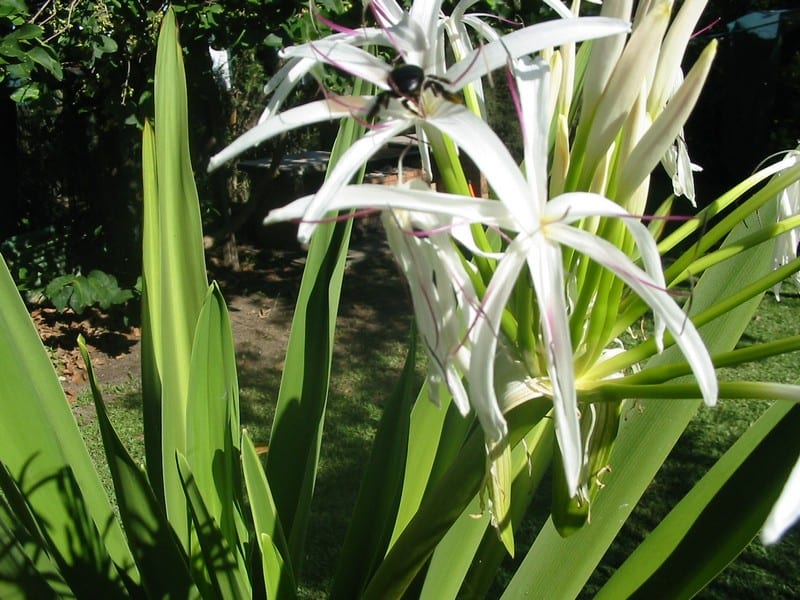 1-3m high, perennial lily that grows from a bulb.
Form or habit:
on
Latex:
Amaryllidaceae
Leaf:
Simple Basal
Thick, errect and spreading green leaves, 60-200cm x 10-15cm.
Flower conspicuous:
Conspicuous
Flower colour:
White
Flower description:
Purple stamens, segments are slender and scented, 10cm diameter, Borne in clusters of 10-25, on flattened stalks between 30-80cm long, rising from lower leaf axils, from November to March.
Fruit conspicuous:
Conspicuous
Fruit colour:
Green
Fruit:
Fleshy
Fruit description:
Rounded capsules with a beak, 2-5cm diameter.
Habitat:
Gallery (Riverine or riparian) forest,Beach Scrub/Littoral Rainforest
Distribution
Northern Territory and Coastal Queensland and New South Wales
Food source for:
Food source for larvae of moths and butterflies.
Toxicity:
No toxicity known
Origin:
Australia
Weed:
No
Weed status:
Notes:
Information sources:
Melzer R. & Plumb J. (2007) Plants of Capricornia.,Society for Growing Australian Plant Townsville Branch Inc. (1994) Across the Top Gardening with Australian Plants in the tropics.