Creeping lantana
Lantana montevidensis, Fam. Verbenaceae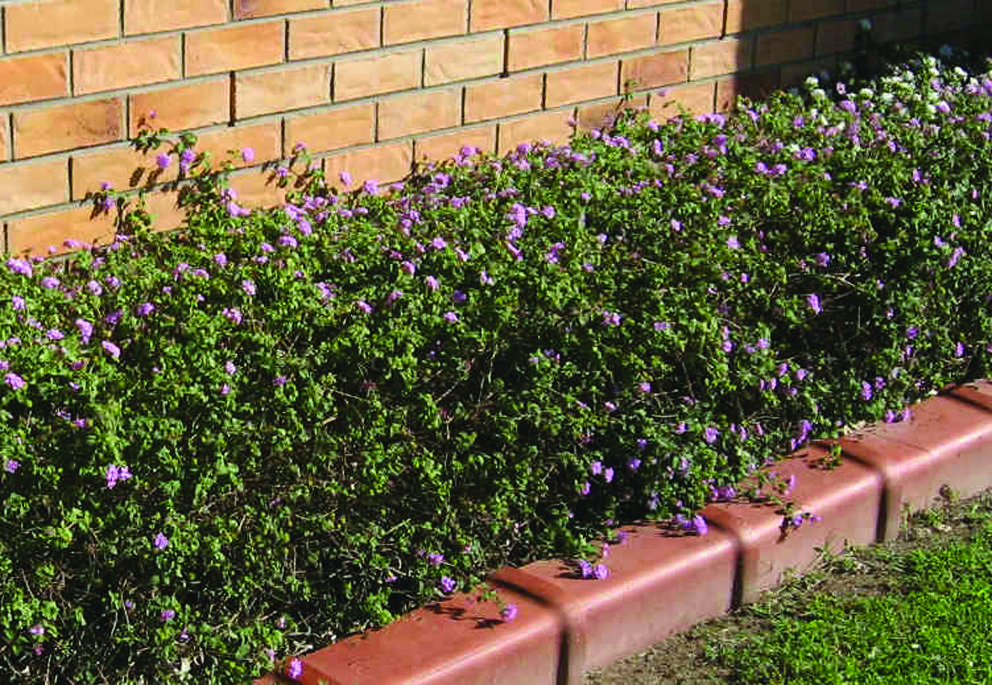 Weak-stemmed prostrate shrub, rooting at the nodes and forming dense mats, stems four-angled.
Weed Category:
Restricted invasive plants Category 3


Plants declared invasive under the Biosecurity Act 2014, that are present in QLD. Not to be distributed or disposed of.

WONS (Weed of National Significance)


Thirty-two WONS (Weeds of National Significance) have been identified because of their impact on primary production and the environment, potential for spread and socioeconomic impacts.

Weed:
Yes
Form or habit:
Shrub
Family:
Verbenaceae
Leaf:
Simple Opposite
Opposite simple ovate, bright green with stiff sand-papery hairs above, paler and hairy below; margins shallowly toothed; distinctly aromatic when crushed; 8-22 x 5-16mm.
Flower conspicuous:
Conspicuous
Flower colour:

Mauve, Purple

Flower description:
Mauve or pale purple, slender tubular with 4-5 spreading lobes, borne in many-flowered compact axillary heads, 10- 20mm in diameter.
Fruit conspicuous:
Conspicuous
Fruit colour:

Black, Purple

Fruit:
Fleshy
Fruit description:
Purple black, fleshy berry-like drupes, 4-8 x 4-8mm, glossy, with 1-4 brown 'seeds'.
Habitat:
Distribution
Food source for:
Toxicity:
Toxic if ingested, potential allergen, toxic or irritant to domestic pets, toxic to native animals
Origin:
Tropical America
Notes:
Spread by: seeds spread by birds; seeds and stem fragments in garden waste or by slashing; suckering from roots, layering or taking root where stems contact ground. Notes: introduced as garden ornamentals. Although creeping lantana doesn't appear to have become naturalised in this area, it has the potential to do so. It favours stony soils in sloping areas which tend to dry out and is already a serious weed south of here. Also, supposedly sterile named cultivars with different coloured flowers are popular ornamentals that could be spread by vegetative material in garden waste. Category 3 restricted invasive plant under the Biosecurity Act 2014, it must not be given away, sold, or released into the environment without a permit. The Act requires everyone to take all reasonable and practical steps to minimise the risks associated with invasive plants and animals under their control. This is called a general biosecurity obligation (GBO).
Information sources:
Mackay Regional Pest Management Group (2018) Weeds of the Mackay Whitsunday Region Second Edition.