Creeping Cinderella weed
Calyptocarpus vialis, Fam. Asteraceae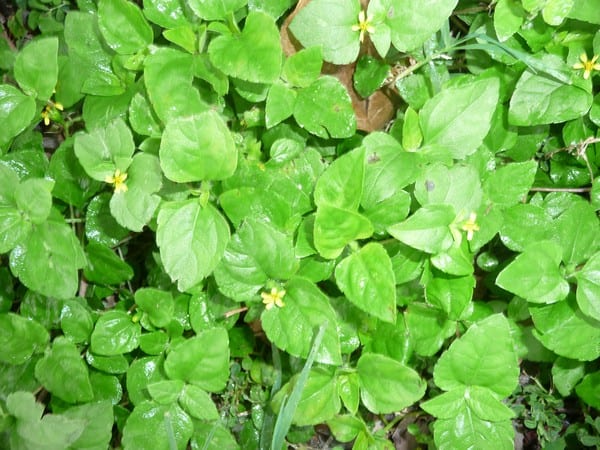 Annual or short lived perennial herb, roughly hairy with weak often sprawling thin stems to 60cm.
Weed Category:
Other invasive plants


Invasive plants that are not prohibited or restricted invasive plants, but are known to spread readily and cause negative impacts, within the region.

Weed:
Form or habit:
Herb
Family:
Asteraceae
Leaf:
Simple Opposite
Opposite, simple, hairy pale green, oval to triangular, 15-40 x 8-25mm, margins serrated, tip pointed, base tapering abruptly into winged stalk, 5-11mm long.
Flower conspicuous:
Conspicuous
Flower colour:

Yellow

Flower description:
Daisies, 5-10mm long, with bright yellow centres and 'petals', borne singly or in few-flowered terminal or axillary groups.
Fruit conspicuous:
Inconspicuous
Fruit colour:
Fruit:
Dry
Fruit description:
'Seeds' 3-4mm long, warty textured, compressed, slightly 3-4 angled with 2 barbed or scaly awns 1.5-2mm long.
Habitat:
Distribution
Food source for:
Toxicity:
No toxicity known
Origin:
USA, Mexico
Notes:
Spread by: garden waste, probably water and contaminated soil. Invades/threats: canefields, roadsides, gardens, footpaths, virtually anywhere/everywhere. Notes: there are many anecdotal reports that this weed and its close relative, Cinderella Weed (Synedrella nodiflora) are rapidly increasing in both numbers and distribution within this region. Environmental weed.
Information sources:
Mackay Regional Pest Management Group (2018) Weeds of the Mackay Whitsunday Region Second Edition.