Coffee senna
Senna occidentalis, Fam. Caesalpiniaceae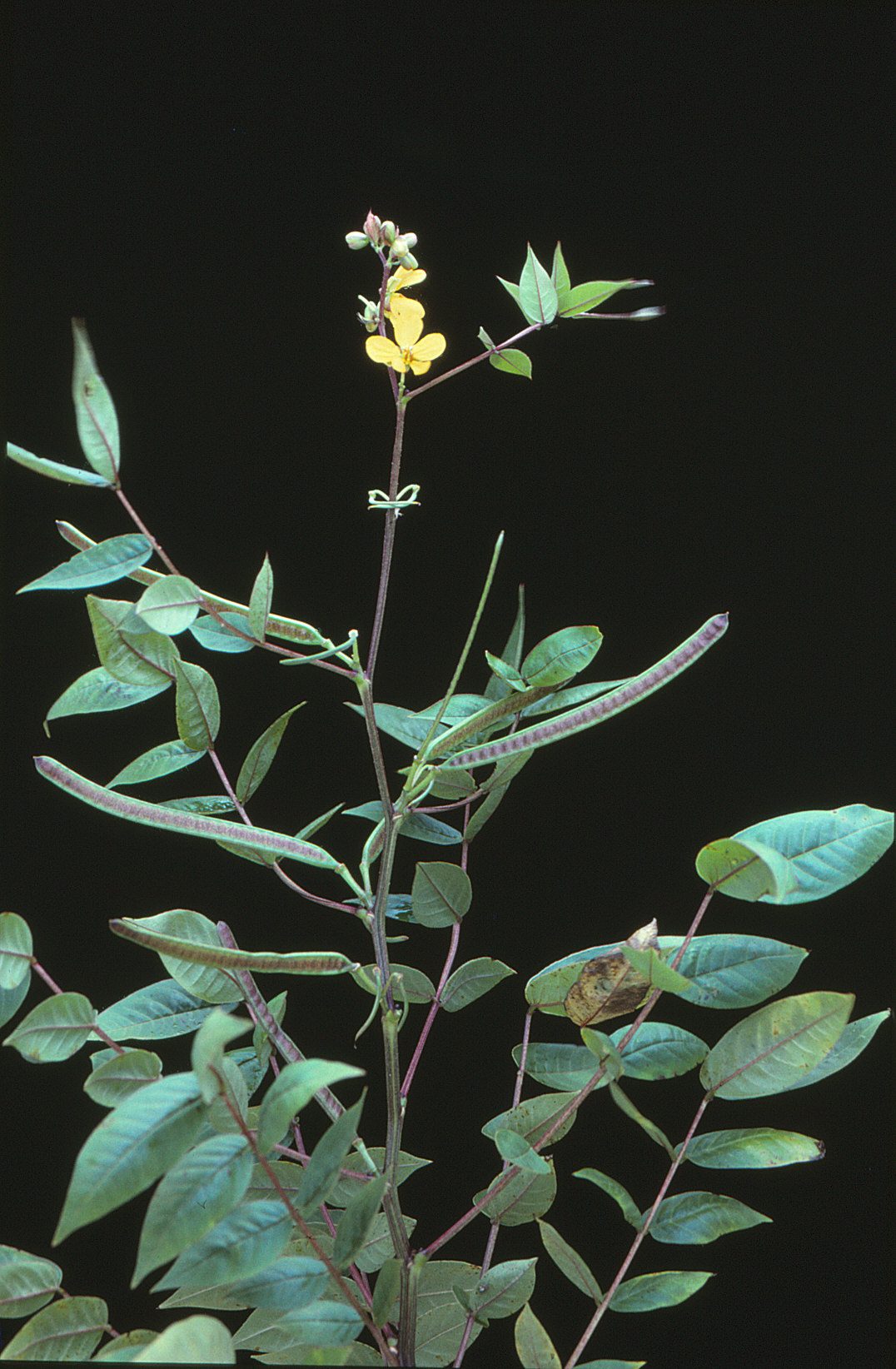 Annual or short-lived perennial sub-shrub to 1 or 2m. Produces a distinctive, foetid smell when leaves are crushed.
Weed Category:
Other invasive plants


Invasive plants that are not prohibited or restricted invasive plants, but are known to spread readily and cause negative impacts, within the region.

Weed:
Yes
Form or habit:
Shrub
Family:
Caesalpiniaceae
Leaf:
Compound Alternate
Compound, alternate pinnate with opposite stalkless or shortly stalked leaflets, lacking a terminal leaflet; usually increasing in size from lower to upper pairs. Total length 150-170mm including the 30-50mm ribbed stalk that has a black conical knoblike gland slightly above the base. Leaflets three to five pale green pairs, ovate to ovate-elliptic, 30-70 x 20-30mm with a pointed tip, glabrous except for hairs around the margins.
Flower conspicuous:
Conspicuous
Flower colour:

Yellow

Flower description:
Yellow somewhat orchid-like or cup-shaped with 5 sub-equal-sized petals; 20-30mm across, borne in 2-4 flowered terminal or axillary groups.
Fruit conspicuous:
Conspicuous
Fruit colour:

Brown

Fruit:
Dry
Fruit description:
Dehiscent pods with hard seeds. Pods slightly flattened, 80-120 x 7-10mm, dark brown, straight or slightly curved upwards and containing many pear-shaped dark brown, slightly shiny seeds about 5mm long.
Habitat:
Distribution
Food source for:
Toxicity:
Toxic if ingested
Origin:
Tropical America
Notes:
Spread by: seeds expelled from opening pods, water, contaminated soil on machinery (harvesting, earthmoving, and 4WDs), animal hooves, manure, contaminated harvest material and fodder. Invades/threats: everywhere; grazing, agriculture and the environment are all under threat. Notes: weedy sennas produce numerous seeds that, in a short time, may accumulate a large soil seed-bank. As seeds remain viable for up to a decade or more, germination can take place over many years, whenever conditions are suitable. They are capable of forming dense stands and compete with pastures and crops for light, moisture and nutrients. It generally doesn't form stands as dense as those of sicklepod (S. obtusifolia). Most species are toxic to cattle and while mature pods and seeds are sometimes eaten, the plants are relatively unpalatable and soon die off. Environmental weed.
Information sources:
Mackay Regional Pest Management Group (2018) Weeds of the Mackay Whitsunday Region Second Edition.