Coffee Bush
Breynia oblongifolia, Fam. Euphorbiaceae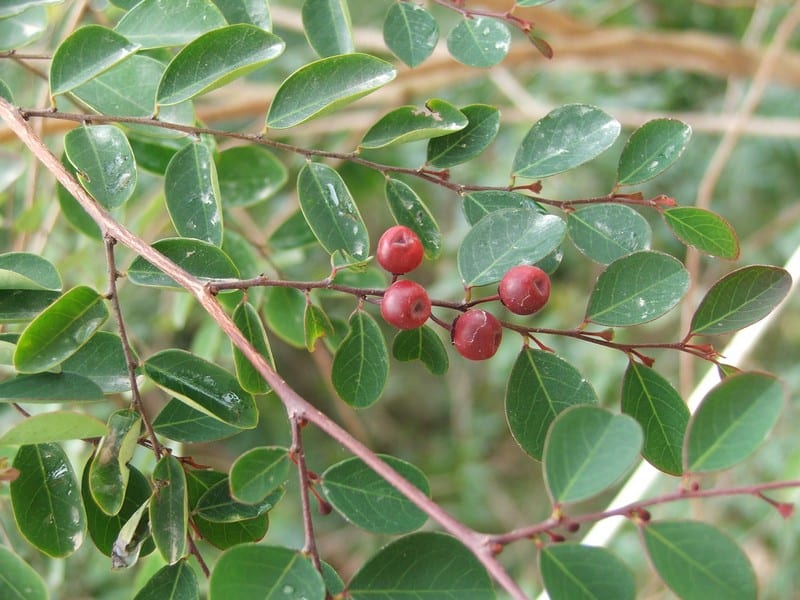 Erect, slender shrub, understory plant, grows 2-4m high.
Form or habit:
Shrub or small tree
Latex:
Euphorbiaceae
Leaf:
Simple Alternate
Leaves entire, broadly ovate or oblong-ovate, up to 3.5cm in length with lateral veins obscure.
Flower conspicuous:
Conspicuous
Flower colour:
Greenish-yellow
Flower description:
Pendulous flowers occur singular in leaf axils, any month of the year.
Fruit conspicuous:
Conspicuous
Fruit colour:
Pinkish-red maturing to black
Fruit:
Fleshy
Fruit description:
Small berries 6mm in diameter, occuring any time of year.
Habitat:
Gallery (Riverine or riparian) forest,Woodland/ open forest,Beach Scrub/Littoral Rainforest,Rainforest
Distribution
Queensland, Northern Territory and north-east New South Wales.
Food source for:
Host plant of aphids, fruits consumed by brown-cuckoo dove, eclectus parrot, Lewin's honeyeater, satin bowerbird and silvereye. This plant also provides for the larval stage of large grass buterfly, and for the following moth species;Parallelia frontina, Parallelia solomonensis and Phyllocnistis diaugella.
Toxicity:
Toxic if ingested,Toxic or irritant to domestic pets
Origin:
Australia
Weed:
No
Weed status:
Notes:
Despite the common name, this plant should not be consumed by humans and is posionous to stock.
Information sources:
Melzer R. & Plumb J. (2007) Plants of Capricornia.,Society for Growing Australian Plant Townsville Branch Inc. (1994) Across the Top Gardening with Australian Plants in the tropics.