COCONUT (WEED)
Cocos nucifera, Fam. Arecaceae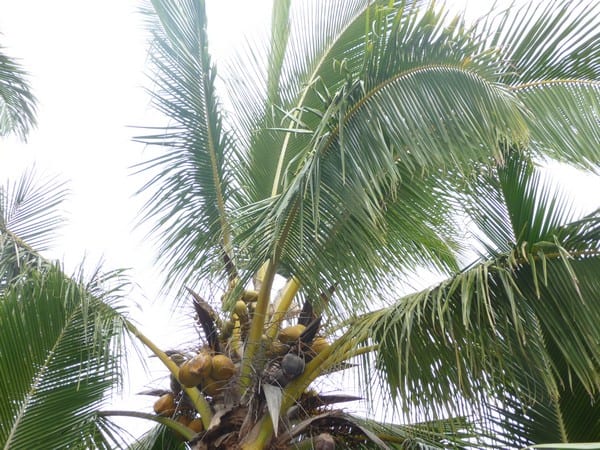 A solitary palm to 30m with a stout trunk, particularly at base.
Form or habit:
Palm or palm like plant
Latex:
Arecaceae
Leaf:
Compound Whorled
Large pinnate arching fronds to 6m long with numerous leaflets.
Flower conspicuous:
Conspicuous
Flower colour:
Cream to yellow
Flower description:
Three-petalled cream to yellow, about 12mm long, borne in large axillary sprays.
Fruit conspicuous:
Conspicuous
Fruit colour:
Green to yellow-orange to brown
Fruit:
Fleshy
Fruit description:
Large drupes rarely less than 200mm, green, yellow-orange and finally brown with fibrous husk surrounding one 80-100mm long 'nut'.
Habitat:
Distribution
Food source for:
Toxicity:
No toxicity known
Origin:
Probably Pacific & Indian Ocean islands, now Pantropic
Weed:
Yes
Weed status:
Environmental/garden escapee
Notes:
Spread by: Water, including ocean currents; indiscriminately dumped fruit; gravity. Invades: Coastal areas, destabilising dune systems. Notes: Historically, widely planted on islands and coastal areas; still being used in amenity plantings. They have many economic uses but naturalised populations can become serious environmental weeds. Over time, unattended plants produce expansive populations with a thick ground layer of fallen fronds and fruit. Falling coconuts may also be a safety hazard. Environmental weed.
Information sources:
Mackay Regional Pest Management Group (2011) Weeds of the Mackay Whitsunday Region.