Centro
Centrosema molle, Fam. Fabaceae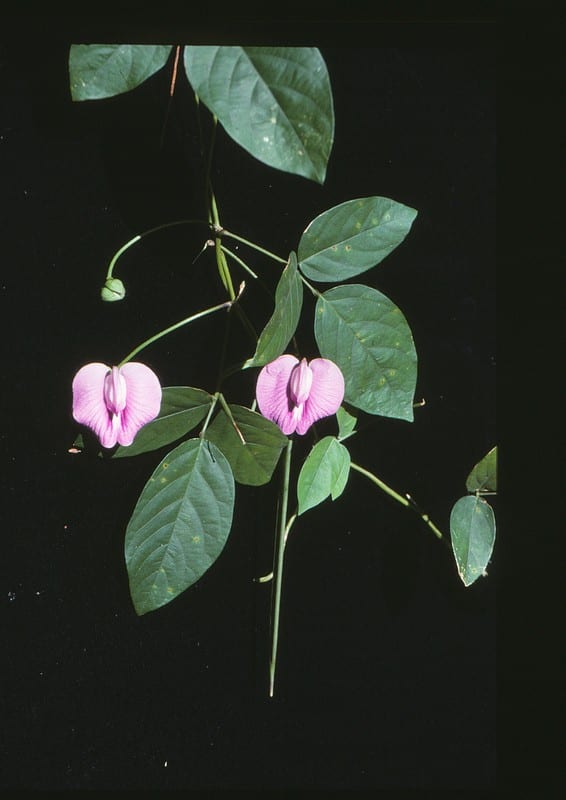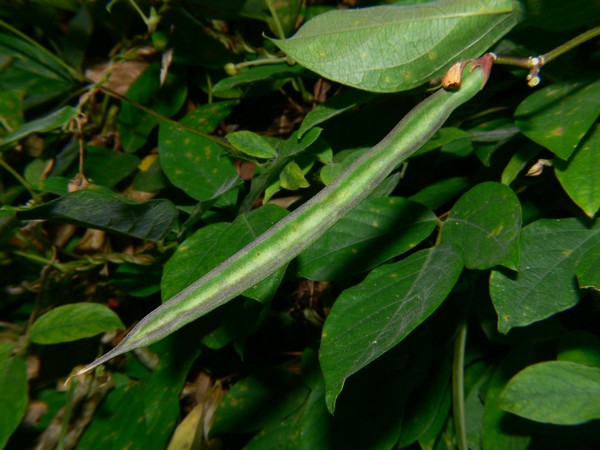 Vigorous twining vine, forming tangled mats or growing over shrubs and trees to 3m or more. Stems minutely hairy. Previously Centrosema pubescens.
Weed Category:
Other invasive plants


Invasive plants that are not prohibited or restricted invasive plants, but are known to spread readily and cause negative impacts, within the region.

Weed:
Yes
Form or habit:
Vine (Climbing, Twining or groundcover)
Family:
Fabaceae
Leaf:
Compound Alternate
Alternate pinnate with 3 leaflets, broadest below the mid-point, terminal leaflet lanceolate and much larger than laterals. Triangular stipules, 3-4mm.
Flower conspicuous:
Conspicuous
Flower colour:

Mauve, Pink

Flower description:
Pea-shaped, pink to mauve, 20mm long x 20-30mm wide, densely hairy on back, borne in axillary groups of 1-several at the end of slender stems.
Fruit conspicuous:
Conspicuous
Fruit colour:

Brown

Fruit:
Dry
Fruit description:
Flattened straight or curved smooth pale brown pods with thickened margins, 70-150 x 7mm, contain 8-20 red-brown mottled seeds.
Habitat:
Distribution
Food source for:
Toxicity:
No toxicity known
Origin:
South America
Notes:
Spread by: seeds in contaminated soil, vehicles, garden waste, animals. Invades: disturbed sites, urban, agricultural and natural areas. Notes: introduced as a pasture legume in wet tropics. Produces large quantities of viable seed and is now widely naturalised in this region. Destroys tree layer and prevents regeneration of native plants. Environmental weed.
Information sources:
Mackay Regional Pest Management Group (2018) Weeds of the Mackay Whitsunday Region Second Edition.