Cadaghi
Corymbia torelliana, Fam. Myrtaceae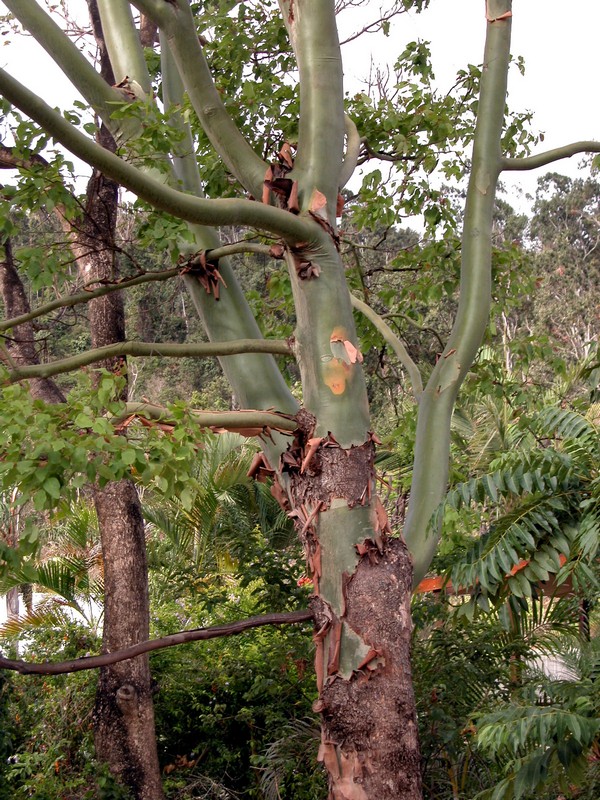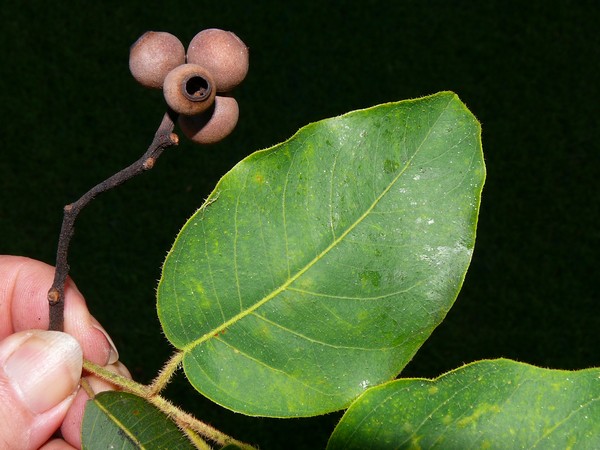 Tall upright tree, usually 20-30m high with straight unbranched trunk for up to two thirds of total height when growing in rainforest; often much shorter with lower branching when grown in open cultivation. Bark tessellated or scaly dark grey on lower trunk, distinctive smooth green above; twigs pink and hairy. Previously Eucalyptus torelliana.
Weed Category:
Other invasive plants


Invasive plants that are not prohibited or restricted invasive plants, but are known to spread readily and cause negative impacts, within the region.

Weed:
Yes
Form or habit:
Large Tree
Family:
Myrtaceae
Leaf:
Simple Alternate
Produced in 4 stages: seedling, juvenile, intermediate and adult though the adult leaf stage is rare. Juvenile: broadly ovate, 120-220 x 80-140mm, new growth covered in reddish hairs. Intermediate: alternate ovate to broad-lanceolate, 90-160 x 35-65mm, sparsely hairy, lateral veins at wide angle to midvein and with a vein near leaf margin, small visible glands present.
Flower conspicuous:
Conspicuous
Flower colour:

White

Flower description:
Fluffy, white, in dense many branched terminal sprays of 3-7 flowered umbels.
Fruit conspicuous:
Conspicuous
Fruit colour:

Brown

Fruit:
Dry
Fruit description:
Clusters of brown, globular capsules, 8-10mm long and wide with deeply enclosed valves. Seeds red-brown, elliptical, 2-3mm long.
Habitat:
Distribution
Food source for:
Toxicity:
No toxicity known
Origin:
Northeast Queensland
Notes:
Spread by: seeds wind borne over short distances, water, garden waste, stingless bees. Invades: bushland outside its natural range. Notes: natural distribution is restricted to rainforest and tall open forest in narrow coastal belt in far north Queensland. Promoted and extensively planted as an ornamental amenity tree for decades, now widely naturalised and recorded in open forests and Melaleuca forests in this region. Known to hybridise with related species which has the potential for the original parent species to be completely replaced by hybrids. Susceptible to sooty mould; inhibits germination of other species within close proximity and causes concern to keepers of native stingless bees. Environmental weed.
Information sources:
Mackay Regional Pest Management Group (2018) Weeds of the Mackay Whitsunday Region Second Edition.