Cabomba, fanwort
Cabomba caroliniana, Fam. Cabombaceae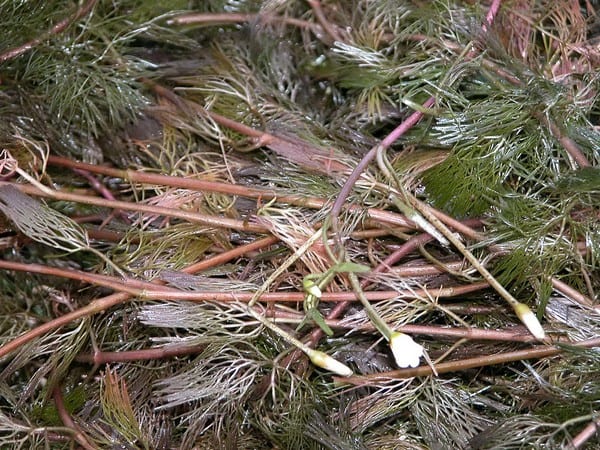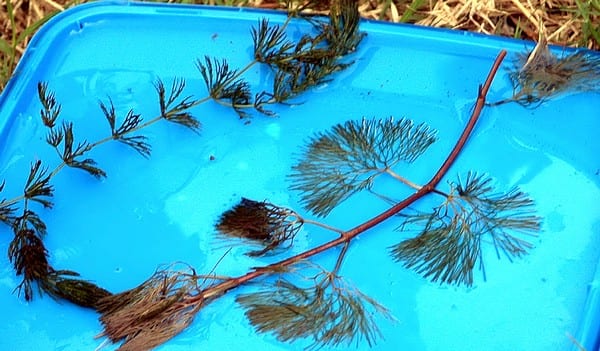 Perennial, rooted aquatic herb with mainly submerged stems up to 10m long; submerged leaves and stems have a thin gelatinous coating. Grows in water 1-3m deep but can grow free-floating if uprooted.
Weed Category:
Restricted invasive plants Category 3


Plants declared invasive under the Biosecurity Act 2014, that are present in QLD. Not to be distributed or disposed of.

WONS (Weed of National Significance)


Thirty-two WONS (Weeds of National Significance) have been identified because of their impact on primary production and the environment, potential for spread and socioeconomic impacts.

Weed:
Yes
Form or habit:
Herb, Aquatic plants
Family:
Cabombaceae
Leaf:
Simple Opposite
Opposite and of two types- submerged leaves repeatedly divided feathery fan-shaped, about 50mm across; floating leaves if present, are entire narrow and up to 20mm long.
Flower conspicuous:
Conspicuous
Flower colour:

White, Yellow

Flower description:
Daisy-like with 6 white petals and yellow centres, about 20mm in diameter, borne singly above the water surface.
Fruit conspicuous:
Unknown
Fruit colour:
Fruit:
Fruit description:
Not recorded to fruit and seed in Australia.
Habitat:
Distribution
Food source for:
Toxicity:
No toxicity known
Origin:
America
Notes:
Spread by: discarded aquarium plants, fragments attached to boats or boat trailers, dislodged stem pieces. Invades: creeks, lakes and dams. Notes: introduced aquarium plant. Occasional outbreaks identified in this region are controlled. Any suspected sightings should be reported so that identification and eradication can be undertaken. Can expand rapidly and form dense underwater thickets that impede aquatic recreational activities and endanger swimmers who can become entangled. Destroys habitat and obstructs creeks, affects water quality and increases siltation in lakes. Five species are recognised but only Cabomba caroliniana is known to be naturalised in Australia. Category 3 restricted invasive plant under the Biosecurity Act 2014. It must not be given away, sold, or released into the environment without a permit. The Act requires everyone to take all reasonable and practical steps to minimise the risks associated with invasive plants and animals under their control. This is called a general biosecurity obligation (GBO).
Information sources:
Mackay Regional Pest Management Group (2018) Weeds of the Mackay Whitsunday Region Second Edition.