Butterfly pea
Clitoria ternatea, Fam. Fabaceae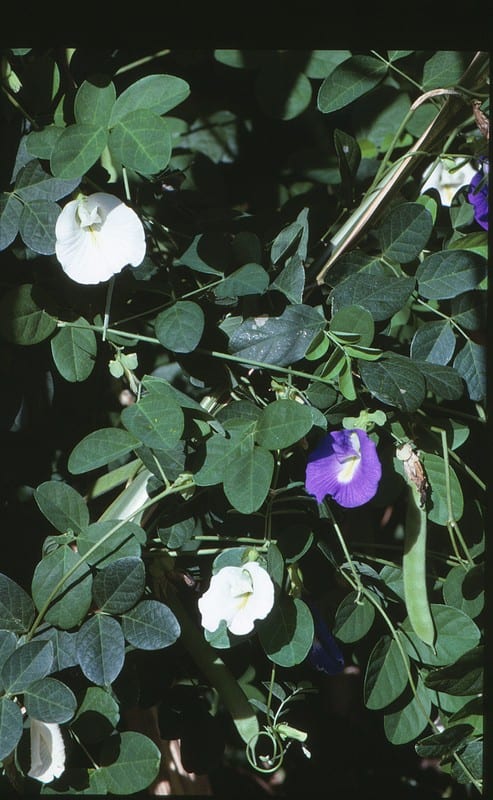 Twining perennial climber with minutely hairy stems to 5m long with woody rootstock.
Weed Category:
Other invasive plants


Invasive plants that are not prohibited or restricted invasive plants, but are known to spread readily and cause negative impacts, within the region.

Weed:
Yes
Form or habit:
Vine (Climbing, Twining or groundcover)
Family:
Fabaceae
Leaf:
Compound Alternate
Pinnate, 5-7 elliptic to rounded leaflets, 20-50 x 10-30mm, more-or-less glabrous above, sparsely hairy below. Persistent triangular stipules, 4-5mm long.
Flower conspicuous:
Conspicuous
Flower colour:

Blue, White, Yellow

Flower description:
Pea-shaped blue or white, pale yellow at base, up to 50mm long x 25mm wide, solitary or paired and borne on long axillary stems.
Fruit conspicuous:
Conspicuous
Fruit colour:

Brown

Fruit:
Dry
Fruit description:
Flattened light brown pods, 50-120 x 7-12mm, with a pointed tip, contain 5-10 seeds 3-7mm long. Environmental weed.
Habitat:
Distribution
Food source for:
Toxicity:
No toxicity known
Origin:
India, tropical Asia
Notes:
Spread by: seeds in garden waste, possibly also spread by seeds in animal manure. Invades: roadsides, canefields, natural areas, especially near human habitation. Notes: garden escapee; now widely naturalised in Queensland. Palatable and nutritious to stock, pods eaten by humans in Philippines. Environmental weed.
Information sources:
Mackay Regional Pest Management Group (2018) Weeds of the Mackay Whitsunday Region Second Edition.