Budda pea
Aeschynomene indica, Fam. Fabaceae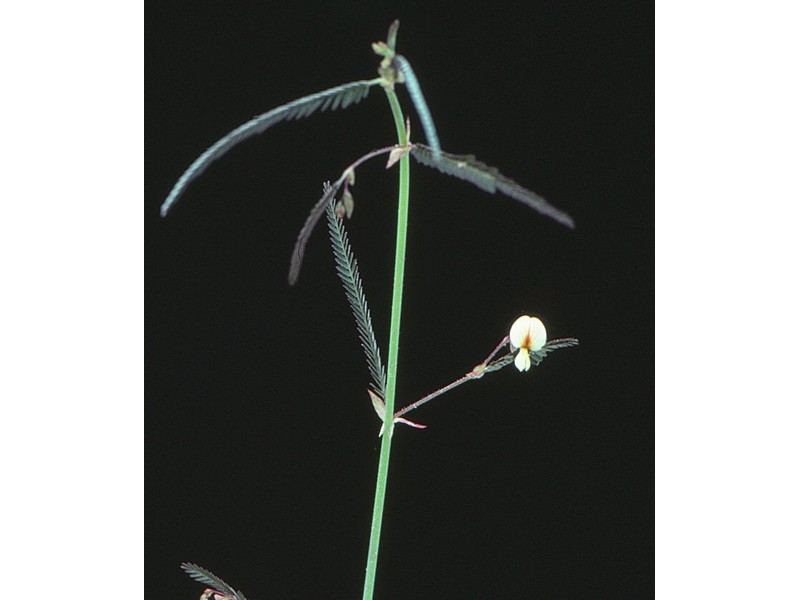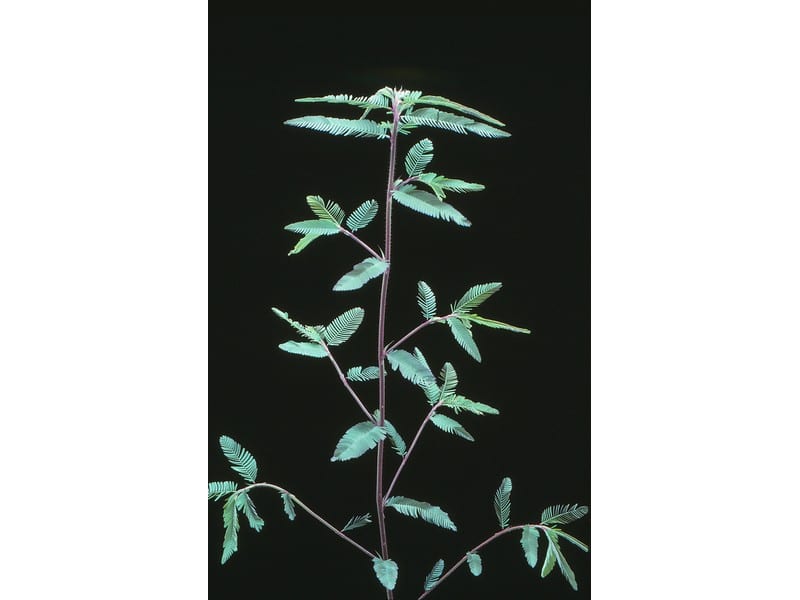 A sparsely branched, erect annual herb to 2m. Stems hollow, pithy, usually slender to 5mm diameter but sometimes to 25mm when growing in water, mostly glabrous, but sometimes rough with short stiff hairs.
Weed Category:
Other invasive plants


Invasive plants that are not prohibited or restricted invasive plants, but are known to spread readily and cause negative impacts, within the region.

Weed:
Yes
Form or habit:
Herb
Family:
Fabaceae
Leaf:
Compound Alternate
Alternate narrow pinnate, 100mm long with 40-60 oblong leaflets 2-10 x 1-3mm. Stipules 7-10mm, tapering to a point both above and below point of attachment, becoming deciduous.
Flower conspicuous:
Conspicuous
Flower colour:

White, Yellow

Flower description:
Yellow or whitish pea-flowers with reddish veins, 7-10mm long in 2-4 flowered axillary sprays.
Fruit conspicuous:
Conspicuous
Fruit colour:

Yellow, Cream

Fruit:
Dry
Fruit description:
Pods stalked flattened, 20-65 x 34mm, indented on one side between the seed joints, straw-coloured and breaking into 3-10 one-seeded articles at maturity. Seeds smooth dark olive-black or brownish, flattish kidney shaped, 3-4 x 2-3mm.
Habitat:
Distribution
Food source for:
Toxicity:
No toxicity known
Origin:
Local native, also widespread overseas.
Notes:
Spread by: gravity, water. Invades/threats: wet areas and drains. Budda pea is a nitrogen fixing species used as a green manure crop overseas. It frequently grows in heavy soils subject to periodic inundation. There are occasional records for another four Aeschynome species in this area- two native and two introduced. Environmental weed. They all have pinnate leaves with many leaflets, small pea flowers in few-flowered sprays and jointed pods that break up at maturity. The introduced species are: American jointvetch (A. americana) – native to Central and South America – a shrub to 2m densely covered with glandular hairs. Records from northern coastal sites only. A.villosa – a New World species – herbaceous prostrate or weakly erect plant to about 60cm, stems covered with tubercle-based spreading hairs. Records primarily from Whitsunday area.
Information sources:
Mackay Regional Pest Management Group (2018) Weeds of the Mackay Whitsunday Region Second Edition.