Brown Laurel
Cryptocarya triplinervis, Fam. Lauraceae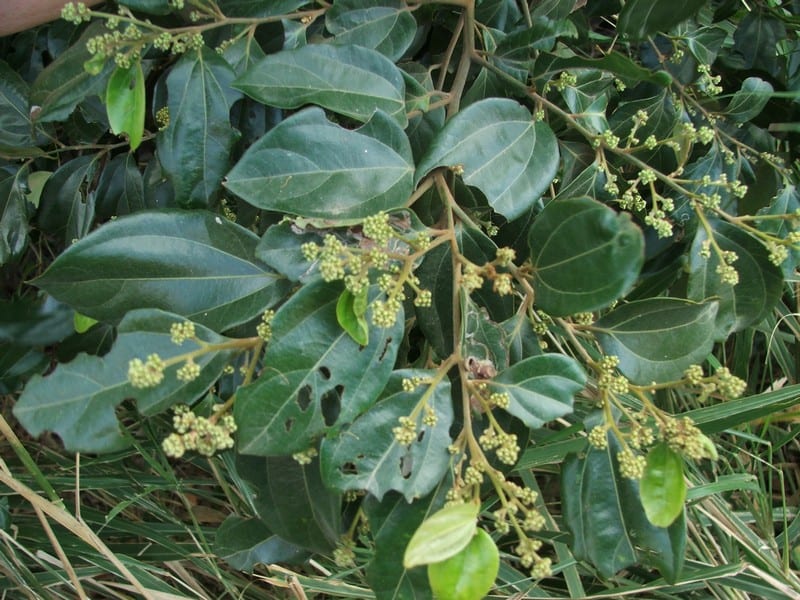 Small to medium tree, 5-10m high, with a spreading dense canopy.
Form or habit:
Tree
Latex:
Lauraceae
Leaf:
Simple Alternate
Leaves have spiral arrangement, lancolate, elliptic or ovate, 14.5-13.5 x 1.5-5cm, three main veins from above, glabrous, very small oil dots, glossy green leaves with paler underside.
Flower conspicuous:
Conspicuous
Flower colour:
Greenish-white
Flower description:
Flowers are small, axillary or pseudo-terminal panicles, bisexual, lightly perfumed, from spring to summer.
Fruit conspicuous:
Conspicuous
Fruit colour:
Black
Fruit:
Fleshy
Fruit description:
Drupesellipsoid, approximately 1.4x1.2cm, glossy black, summer to autum.
Habitat:
Gallery (Riverine or riparian) forest,Woodland/ open forest,Beach Scrub/Littoral Rainforest,Rainforest
Distribution
North Queensland to New South Wales
Food source for:
Fruit consumed by the topknot pigeon, wompoo fruit-dove, Australian king parrot, crimson rosella, Lewin's honey eater and figbird. Also it is an important plant for the larval stage of the bronze flat, Macleay's swallowtail, blue triangle, banded dusk flat and orange emperor butterflies.
Toxicity:
No toxicity known
Origin:
Australia
Weed:
No
Weed status:
Notes:
Information sources:
Melzer R. & Plumb J. (2007) Plants of Capricornia.,Society for Growing Australian Plant Townsville Branch Inc. (1994) Across the Top Gardening with Australian Plants in the tropics.