Blunt-leaved passionfruit
Passiflora aurantia, Fam. Passifloriaceae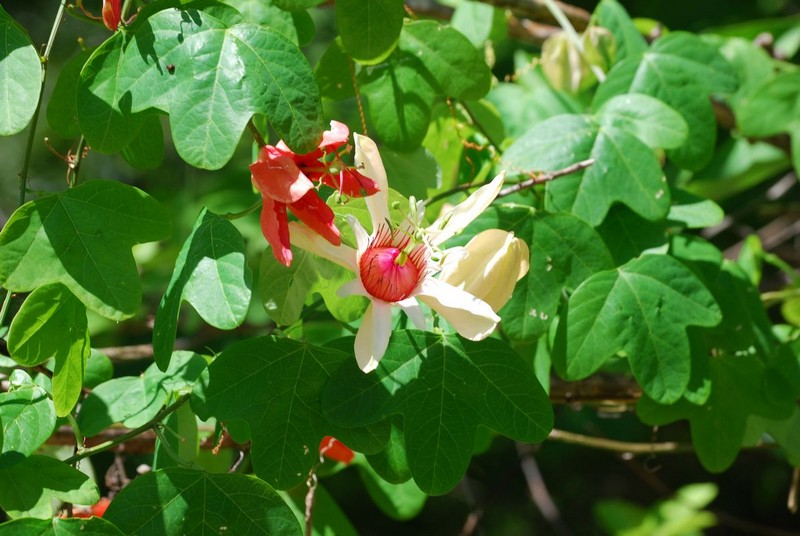 Small to medium vine with fine, hairless stems and unbranched, axillary tendrils.
Weed Category:
Weed:
No
Form or habit:
Vine (Climbing, Twining or groundcover)
Family:
Passifloriaceae
Leaf:
Simple
Usually 3-lobed with lobes broad and shallow, central lobe broadest at base, apex of lobes rounded, lobe margins entire, 3 prominent veins, 2 - 8cm long, hairless, glossy green, lower surface paler and more or less dull. Petiole 1-3cm long, with 2 raised glands near apex.
Flower conspicuous:
Conspicuous
Flower colour:

White, Red, Pink

Flower description:
Star like. White changing to bright pink and red with age. Held upright, 6cm borne singly in leaf axils. Flowers May to July and sporadically.
Fruit conspicuous:
Conspicuous
Fruit colour:

Purple, Green

Fruit:
Fleshy
Fruit description:
Fleshy, green, ripening to purplish, egg-shaped 2-5cm long berry, numerous black seeds in greyish pulp.
Habitat:
Beach scrub, littoral rainforest, rainforest, vine thicket.
Distribution
From Cooktown QLD to North Eastern NSW in rainforests and thickets.
Food source for:
Food plant for glasswing and cruiser butterflies.
Toxicity:
No toxicity known
Origin:
Australia
Notes:
A fast growing vine suitable for screening and trellises. Well drained soils and full sun desirable. Fruit is not edible.
Information sources:
Harden G.J. etal (2007) Rainforest Climbing Plants, A field guide to their identification.