Black eyed Susan
Thunbergia alata, Fam. Acanthaceae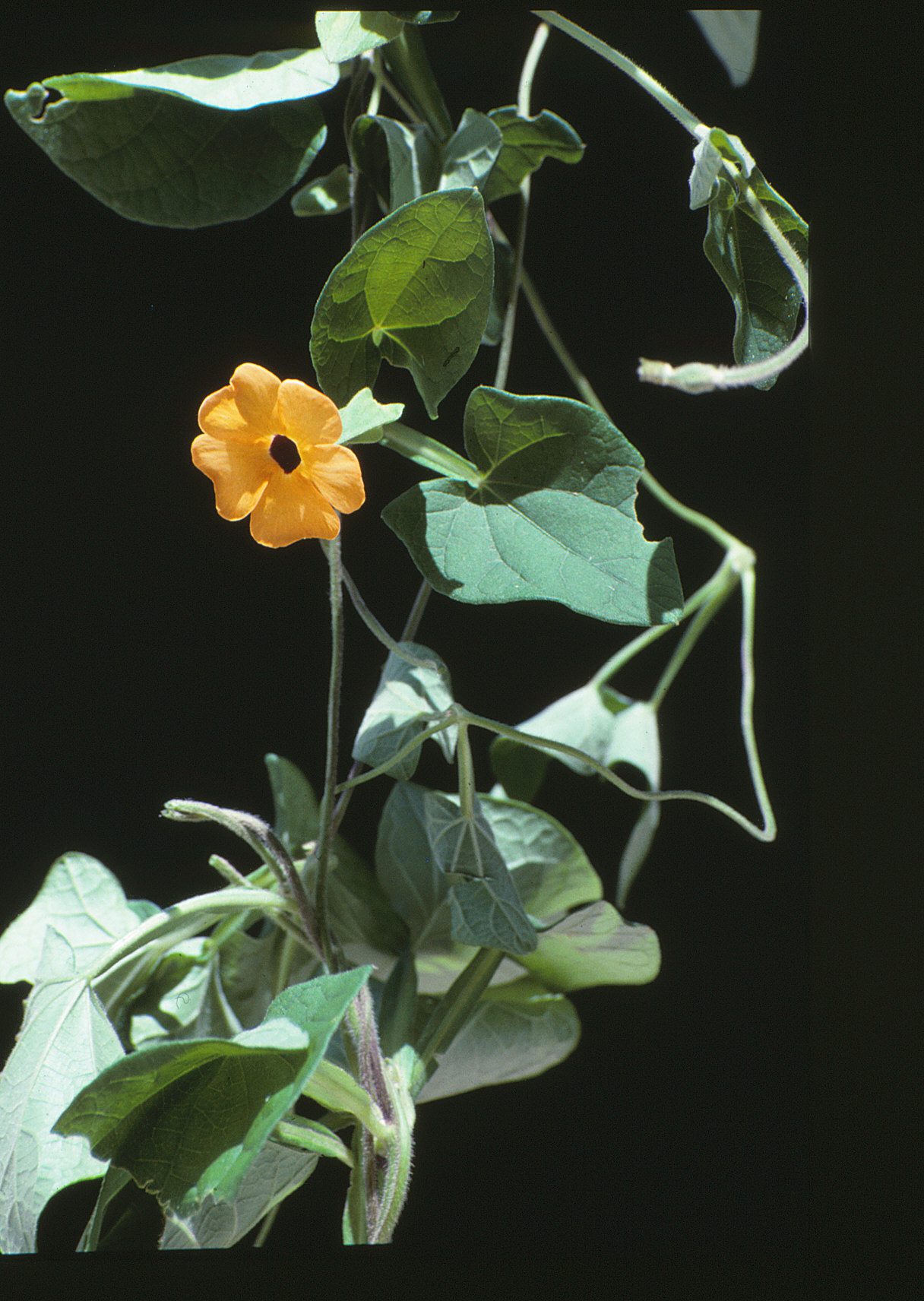 Vigorous, twining perennial vines with long slender climbing stems and large tuberous root systems. Tubers as large as 70 kg have been recorded.
Weed Category:
Locally Declared Plants


Under the Local Law provision of the Local Government Act 1993, Local Government may declare a weed specifically for their Council area and enforce their control.

Weed:
Yes
Form or habit:
Vine (Climbing, Twining or groundcover)
Family:
Acanthaceae
Leaf:
Simple Opposite
Simple, opposite, heart-shaped, 20-75 x 15-65, toothed or smooth margins, coarsely hairy; stalks with narrow wing.
Flower conspicuous:
Conspicuous
Flower colour:

Orange

Flower description:
Trumpet-shaped with short tube and five spreading petals. Petals usually orange, throat usually black, about 25mm diameter; solitary.
Fruit conspicuous:
Conspicuous
Fruit colour:

Brown

Fruit:
Dry
Fruit description:
Brown cone-shaped capsules with rounded base contain four flat seeds that are explosively expelled at maturity. Capsules 16-20 x 6-8mm enclosed in leafy bracts. Seeds brown about 4mm long. Viable seeds are produced, contrary to earlier beliefs.
Habitat:
Distribution
Food source for:
Toxicity:
No toxicity known
Origin:
Northern India and Tropical Africa
Notes:
Spread by: garden waste, water, contaminated soil containing vegetative material. Propagation is mostly from stem cuttings or shoots from the tuberous roots, particularly if damaged. Invades/threats: creek banks, native remnant vegetation; smothers vegetation pulling down mature trees. Notes: introduced as garden ornamentals, now serious environmental weeds. They are difficult to control due to their extensive tuberous root systems. If detected, early control is essential and existing garden plants should be destroyed. Declared under local law in Whitsunday Regional Shire. Four species are declared in Queensland and another species, though not declared, is already in environmental areas within this district. Annual thunbergia (T. annua), Category 1 restricted invasive plant, not known to occur in Queensland.
Information sources:
Mackay Regional Pest Management Group (2018) Weeds of the Mackay Whitsunday Region Second Edition.