Bellyache bush, cotton-leaved physic nut
Jatropha gossypiifolia, Fam. Euphorbiaceae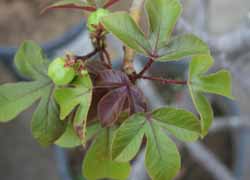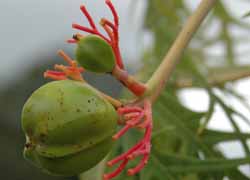 Squat erect thick-stemmed perennial shrub 2.5-4 m tall. Stems have course sticky glandular hairs.
Weed Category:
Restricted invasive plants Category 3


Plants declared invasive under the Biosecurity Act 2014, that are present in QLD. Not to be distributed or disposed of.

WONS (Weed of National Significance)


Thirty-two WONS (Weeds of National Significance) have been identified because of their impact on primary production and the environment, potential for spread and socioeconomic impacts.

Weed:
Yes
Form or habit:
Palm or palm-like plant, Shrub, Small tree
Family:
Euphorbiaceae
Leaf:
Simple Alternate
Young leaves deeply divided into three rounded lobes, purple, sticky, prominent gland-tipped margins. Mature leaves alternate, bright green, about 100mm in diameter, 3-5 lobes, margins covered in coarse, dark brown hairs.
Flower conspicuous:
Conspicuous
Flower colour:

Yellow, Red

Flower description:
Small, red petals and yellow centre, about 4mm across, borne in clusters on upper parts of plant.
Fruit conspicuous:
Conspicuous
Fruit colour:

Brown

Fruit:
Dry
Fruit description:
Brown, oval 3-lobed capsules, about 12 x 10mm, containing 3-4 oblong seeds about 8mm long, that are explosively expelled at maturity.
Habitat:
Woodland
Distribution
Food source for:
Toxicity:
Toxic if ingested, potential allergen, toxic or irritant to domestic pets, toxic to native animals.
Origin:
Tropical America
Notes:
Spread by: seeds 'fired' up to 12m from parent plants, spread by water and in contaminated soil on machinery and vehicles. Tuberous roots produce suckers, especially after any disturbance. Invades/threats: disturbed areas, native vegetation, pastures. Notes: introduced as a garden ornamental; now a major weed of North Queensland, forming dense thickets. To date only recorded from 2 small populations this region – The Slade Point Reserve and Grass Tree area. May still be present in older gardens. Used medicinally and for oil overseas but poisonous to humans and stock. Category 3 restrictive invasive plant under the Biosecurity Act 2014. It must not be given away, sold, or released into the environment without a permit. The Act requires everyone to take all reasonable and practical steps to minimise the risks associated with invasive plants and animals under their control. This is called a general biosecurity obligation (GBO).
Information sources:
Mackay Regional Pest Management Group (2018) Weeds of the Mackay Whitsunday Region Second Edition.