Bell vine
Ipomoea plebeia, Fam. Convolvulaceae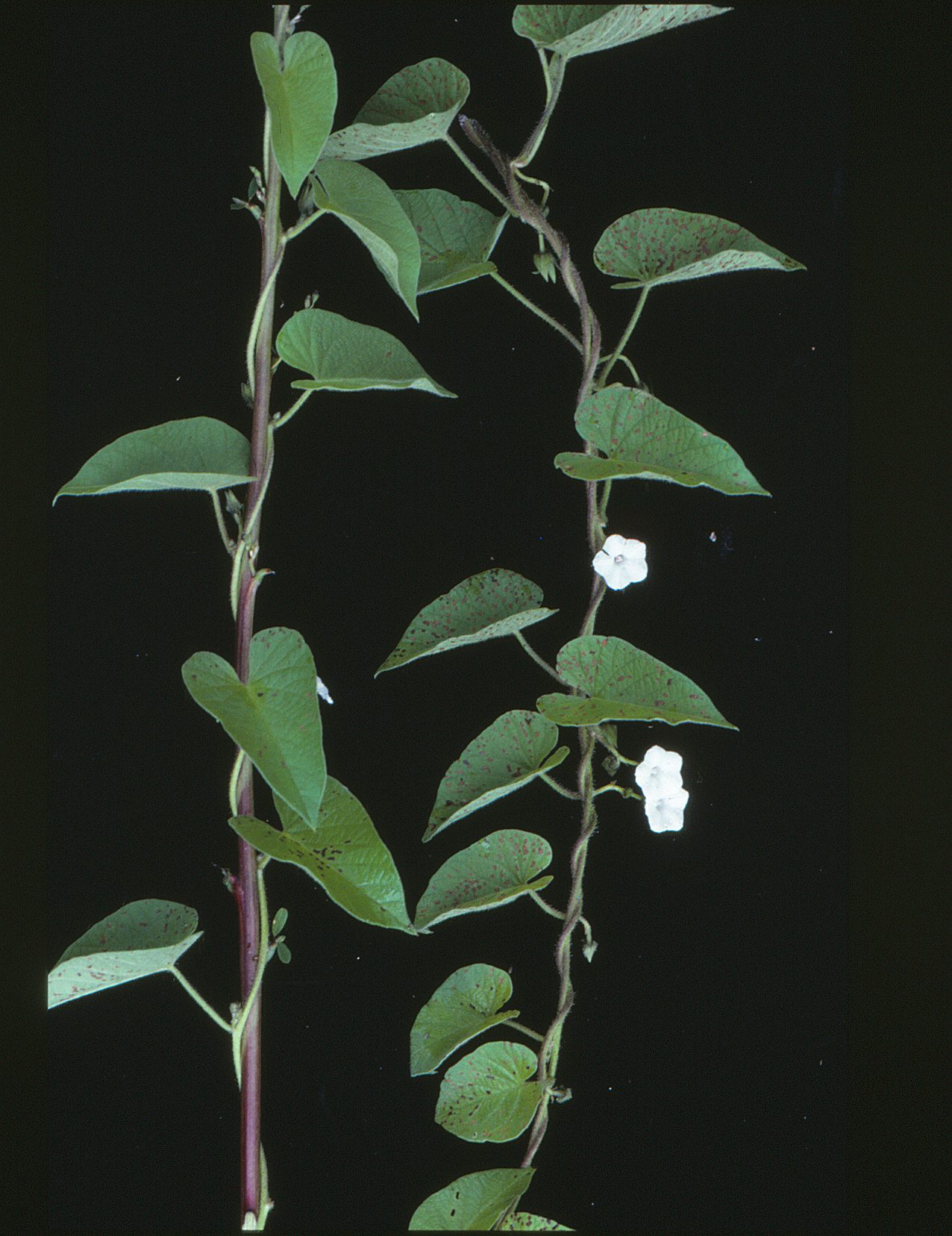 Annual, slender twinning or trailing vine, hairy reddish stems. Usually very vigorous and climbing all over other plants including canopy of trees and/or trailing across the ground. Previously Convolvulus plebeius.
Weed Category:
Other invasive plants


Invasive plants that are not prohibited or restricted invasive plants, but are known to spread readily and cause negative impacts, within the region.

Weed:
Yes
Form or habit:
Vine (Climbing, Twining or groundcover)
Family:
Convolvulaceae
Leaf:
Simple Alternate
Alternate simple. Ovate with heart-shaped base and pointed tip, 25-80 x 12-60mm, pale green with scattered hairs on both surfaces; stalks 10-60mm long.
Flower conspicuous:
Flower colour:

White, Yellow

Flower description:
Funnel-shaped with 5 shallow lobes. White or yellow with hairy bands, 7-12mm diameter, in 1-few flowered groups on 5-15mm stem.
Fruit conspicuous:
Conspicuous
Fruit colour:

Brown

Fruit:
Dry
Fruit description:
Brown, broadly ovoid to globular capsules, thin and papery 7-9 x 7-10mm, with 4 dark brown minutely hairy seeds, 4-5mm long.
Habitat:
Distribution
Food source for:
Toxicity:
No toxicity known
Origin:
Australia
Notes:
Spread by: vegetative material and/or seeds in garden waste, water, contaminated soil on machinery, vehicles etc; contaminated pasture seeds and contaminated forest mulch. Invades/threats: agriculture, particularly the sugar-cane industry, grazing and the environment. Notes: local native that can be a problem in cane fields as it can pull down cane and cause difficulty during harvesting. More than 20 species of Ipomoea occur in this district with 15 of them being native. Only one native species has been identified as being a problem to agriculture so, as always, correct identification is essential. Exotic species that are now widely naturalised were probably all introduced as ornamentals. The hard seeds have a long viability and most perennial species are also spread by vegetative means. The well-known sweet potato is Ipomoea tatatis. Environmental weed.
Information sources:
Mackay Regional Pest Management Group (2018) Weeds of the Mackay Whitsunday Region Second Edition.