Asparagus fern
Asparagus aethiopicus 'Sprengeri', Fam. Asparagaceae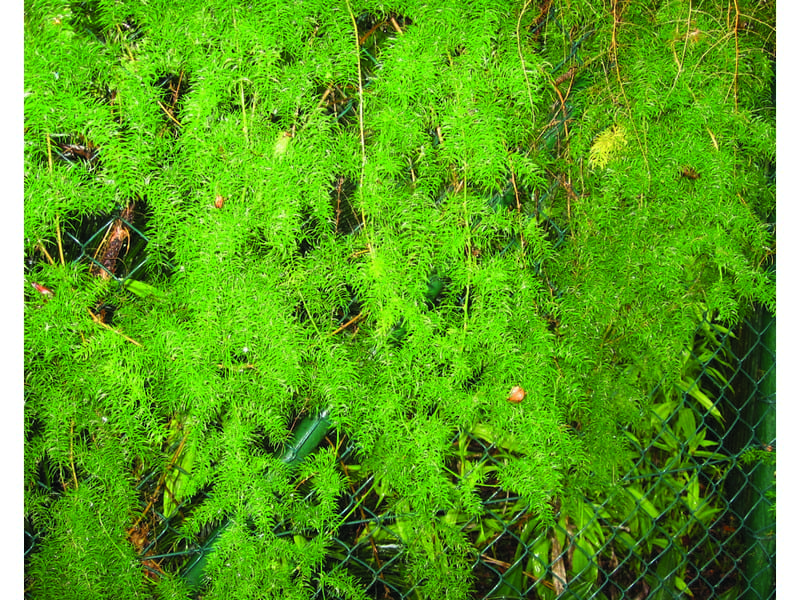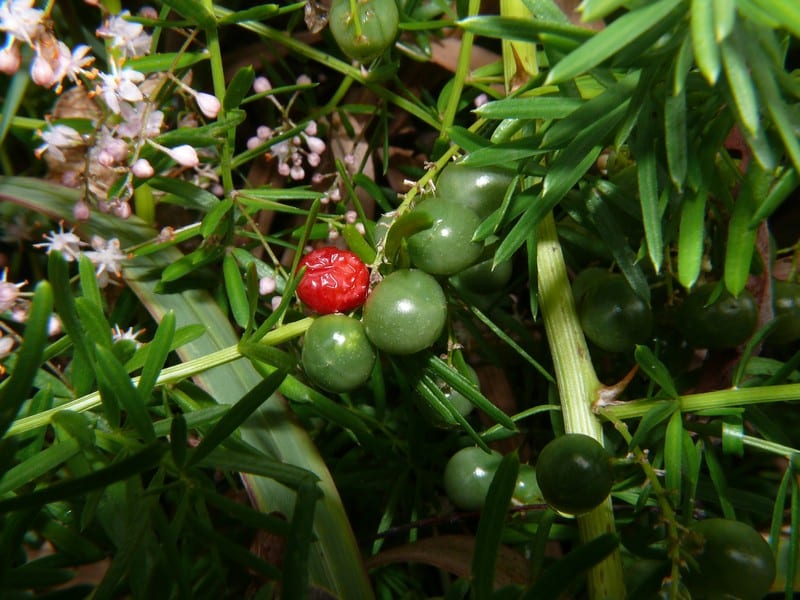 Wiry climbing or sprawling perennial with many arching stems 2-5m long, armed with recurved spines, less than 5mm long, tuberous roots that don't reproduce.
Weed Category:
Restricted invasive plants Category 3


Plants declared invasive under the Biosecurity Act 2014, that are present in QLD. Not to be distributed or disposed of.

Weed:
Yes
Form or habit:
Vine (Climbing, Twining or groundcover)
Family:
Asparagaceae
Leaf:
Simple Unknown
Reduced to scales. Cladodes (slender or leaf-like structures that function as leaves) are present in axils of the scale-leaves. Cladodes 2-5, narrow elliptic to linear, 15-25 x 2-3mm
Flower conspicuous:
Inconspicuous
Flower colour:

White, Pink

Flower description:
Tiny, white to pinkish, 3-4mm long, borne on 4-10mm long racemes
Fruit conspicuous:
Conspicuous
Fruit colour:

Red

Fruit:
Fleshy
Fruit description:
Small, fleshy, red, one-seeded berries, about 5-8 mm diameter. Seeds small round and black.
Habitat:
Distribution
Food source for:
Toxicity:
Origin:
Africa
Notes:
Spread by: birds, garden waste and water; underground rhizomes. Invades/threats: natural areas 'anywhere', highly invasive with severe impact. Notes: introduced as garden ornamentals. A third declared species, climbing asparagus fern (Asparagus africanus) has not been recorded in this region. Native asparagus fern (A. racemosa), is a local species that has 2-5 cladodes, 10-30 x <1mm. Asparagus fern is a Category 3 restricted invasive plant under the Biosecurity Act 2014. It must not be given away, sold, or released into the environment without a permit. The Act requires everyone to take all reasonable and practical steps to minimise the risks associated with invasive plants and animals under their control. This is called a general biosecurity obligation (GBO).
Information sources:
Mackay Regional Pest Management Group (2018) Weeds of the Mackay Whitsunday Region Second Edition.