Anil indigo
Indigofera suffruticosa, Fam. Fabaceae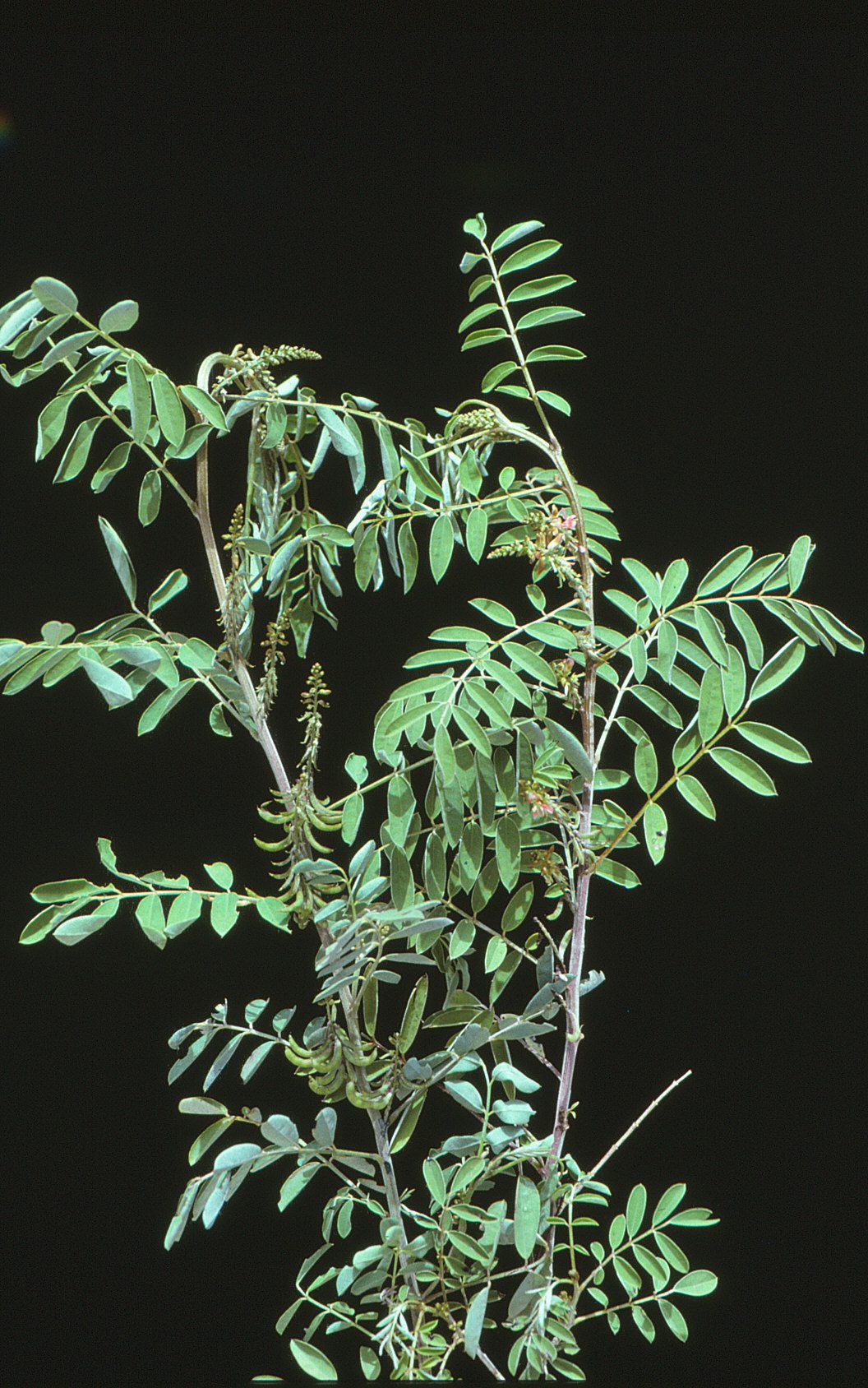 Much branched, erect hairy shrub to about 2m tall. The hairs are adpressed and attached at the middle (medifixed) which makes them rough to the touch.
Weed Category:
Other invasive plants


Invasive plants that are not prohibited or restricted invasive plants, but are known to spread readily and cause negative impacts, within the region.

Weed:
Yes
Form or habit:
Shrub
Family:
Fabaceae
Leaf:
Compound Alternate
Alternate pinnate, with opposite leaflets and a single terminal leaflet. Leaflets 7-17, elliptic-oblong to slightly obovate, 15-30 x 7-14mm, grey-green above, yellowish below. Stipules adpressed, narrow and tapered 2-4mm long.
Flower conspicuous:
Conspicuous
Flower colour:

Pink

Flower description:
Pink pea flowers, about 5mm long, borne in dense axillary racemes, 20-110mm long.
Fruit conspicuous:
Conspicuous
Fruit colour:

Black, Brown

Fruit:
Dry
Fruit description:
Black or dark brown, crescent-shaped hairy cylindrical pods, 10-20 x 2mm, standing out from the stem, black or dark brown at maturity with 3-5 squarish grey brown seeds, 1-1.5mm long
Habitat:
Distribution
Food source for:
Toxicity:
No toxicity known
Origin:
Tropical America
Notes:
Spread by: water and contaminated soil. Invades/threats: coastal communities, open forest, disturbed areas, creek lines, roadsides and pastures. Notes: native of Tropical America. May be an aggressive weed in pastures but no records of this happened in this region. Two introduced species are naturalised in this region, particularly in coastal sites, but there are also native Indigofera species so correct identification is essential, especial for managers of environmental areas. The majority of species have nitrogen fixing nodules on their roots. Environmental weed.
Information sources:
Mackay Regional Pest Management Group (2018) Weeds of the Mackay Whitsunday Region Second Edition.