Angels trumpet, tree datura
Brugmansia x candida, Fam. Solanaceae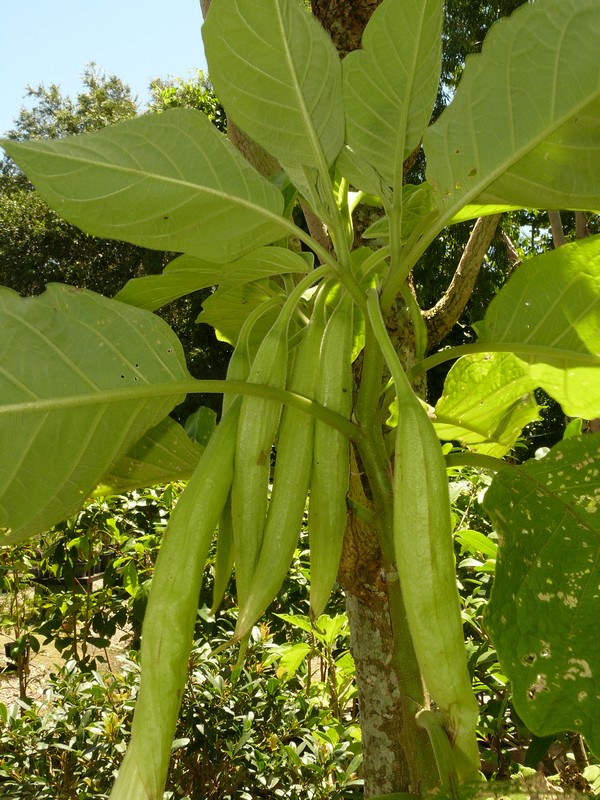 Soft-wooded shrub to small tree 2-4m, all parts densely hairy, clear sap. Previously Datura candida.
Weed Category:
Other invasive plants


Invasive plants that are not prohibited or restricted invasive plants, but are known to spread readily and cause negative impacts, within the region.

Weed:
Yes
Form or habit:
Shrub, Small tree
Family:
Solanaceae
Leaf:
Simple Alternate
Alternate, simple, ovate, 150-250 x 80-120mm, with acute apex and wavy or sometimes shallowly lobed margins; dull green and softly hairy.
Flower conspicuous:
Conspicuous
Flower colour:

White, Green, Orange, Peach, Violet

Flower description:
Drooping trumpet-shaped, pale orange to peach, greenish white or pale violet, 150-200mm long, opening out to about 100mm across. Strong sweet fragrance, particularly at night.
Fruit conspicuous:
Conspicuous
Fruit colour:
Fruit:
Dry
Fruit description:
Narrow cylindrical capsules up to 200mm long with numerous seeds but fruits rarely formed.
Habitat:
Distribution
Food source for:
Toxicity:
Toxic if ingested, potential allergen, irritant sap, toxic or irritant to domestic pets, toxic to native animals.
Origin:
Ecuador
Notes:
Spread by: suckers, garden waste and probably water. Invades/threats: survives in standing water. Notes: a hybrid between B. aurea and B. versicolor, introduced as a garden ornamental. Naturalised populations have recently been identified in Sarina and Whitsunday. All parts of plant are toxic and can cause skin irritation on contact, the sap may cause temporary blindness and deaths have occurred from ingestion. Environmental weed.
Information sources:
Mackay Regional Pest Management Group (2018) Weeds of the Mackay Whitsunday Region Second Edition.